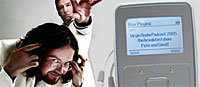 After an encouraging response from listeners, Virgin Radio has announced that it will be making its Sunday afternoon programme 'The Tim Lovejoy Show' available as a podcast.
Virgin first experimented with podcasting earlier this year, with the 'The Pete & Geoff Breakfast Show' making Virgin Radio the first UK radio station to offer a podcast of a daily show.
The service, launched on the 9th March 2005, now receives 85,000 downloads a month.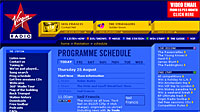 Lovejoy's sports and entertainment show is broadcast weekly from 4pm to 7pm, and Virgin have said that they'll make the "best bits" available for consumers to download to their MP3 players from 28th August.
iPod-toting fans of the show will no doubt appreciate the new service, although they may not be pleased with having to put up with adverts for the podcast's sponsor, Nivea, popping up throughout the download (see: 'Podvertising' Supports Virgin Radio Daily Podcast)
James Cridland, head of strategic development for new media at Virgin Radio was enthusiastic about the potential for podcasts, "The response shows us that people are more than willing to have a play with the technology if the content is good enough".
"It also allows them to listen in at their own convenience if they don't fancy getting up at 6am," he added.
Cridland has stated that the radio station was also looking to make more of its content available as podcasts, describing the delivery method as "a great mechanism to get people to trial our flagship shows".