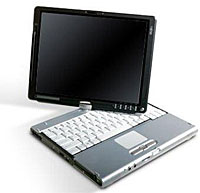 Fujitsu LifeBook T4020
Claimed to combine the "convenience and familiarity of a notebook with the powerful and versatile functionality of a slate Tablet PC", Toshiba's new LifeBook T4020 comes with Intel Pentium M 740 or 760 processors beating inside its swish silver and black casing, with a swivel-tastic 12.1″ XGA display offering a 160 degree viewing angle.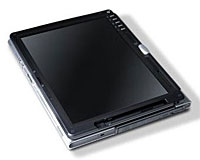 The Windows XP Tablet PC Edition 2005-powered convertible Tablet PC comes fitted with a 56K V.90 modem, Ethernet and Atheros Super AG or Intel PRO/Wireless 2915ABG Wi-Fi connectivity, with the option to add Bluetooth.
Paranoid types can also purchase an optional fingerprint sensor to keep prying eyes away.
The laptop comes with a rather miserly 256 meg of RAM as standard (upgradeable to 2GB), 40GB Shock-Mounted Hard Drive and one Type I or Type II PCMCIA card slot fitted into its 11.5″ x 9.3″ x 1.4″ dimensions.
Fujitsu Stylistic ST5032 tablet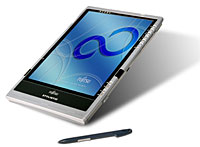 Running on Microsoft Windows XP Tablet PC Edition 2005, the Stylistic ST5032 tablet PC comes in two sizes, with customers able to choose between the 12.1″ XGA and 10.4″ indoor/outdoor displays.
The super slimline silver beastie (12.77″ x 8.66″ x .88″) weighs in at 3.5 pounds, boasting an Intel Pentium M 753 processor, a shock-mounted hard drive and built-in TPM, a dedicated Smart Card slot and a biometric swipe sensor (on 12.1″ display models only).
There's also a nifty dual mic array with noise cancellation software, 60 GB hard drive, built in 56K V.90 modem, 10/100/1000 Ethernet LAN, Bluetooth, Intel PRO/Wireless 2915ABG Network Connection (Tri-mode 802.11a/b/g) and 512 meg RAM.
The PR blurb
"As enterprises increasingly rely on vast numbers of mobile workers, they require a mobile computing platform that is easy to deploy, maintain, and service," frothed Paul Moore, director of mobile product marketing at Fujitsu Computer Systems.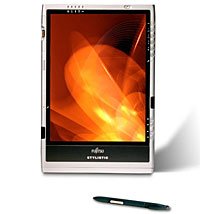 Cranking up his PR offensive to eleven, Moore continued, "Fujitsu offers a broad array of mobile solutions with the features, security, flexibility, reliability and ease of integration these companies need – all at competitive prices".
Prices for the Fujitsu LifeBook T4020 start at US$1,599 (£888, €1,300) and US$2,499 (£1,390, €2,030) for the T5032. Availability is to be announced.