See the update below for the reason for the reason we now don't rate this product.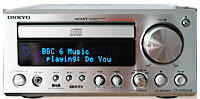 After our clapped out Sony mini-system refused to play one track too many and the usual thump on the side failed to yield the required result, we realised it was time to find a new stereo system for the office.
With the room stuffed full of humming computers, books, cables, gizmos and overflowing racks of CDs, we were looking for something compact but with enough grunt to shake the walls when the punk rock mood takes.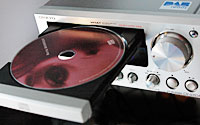 After several trudges up London's hi-fi Mecca, Tottenham Court Road, and long periods scanning the minutiae of online spec sheets, we decided that the Onkyo looked like the one for us.
One trip to Richer Sounds later we returned back to the office clutching the Onkyo CR505 DAB CD receiver system.
For £240 (~US$433, €352~) you get a lot of bang for your money, with the attractive brushed aluminium unit packing in a high quality amplifier, CD player, AM/FMRDS tuner and – best of all – a DAB (Digital Broadcast Audio) receiver.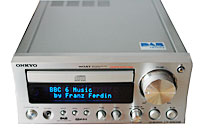 Unlike many other all-in units in the same bracket, this puppy offers a 'proper' amplifier with high-quality Wolfson DACs delivering accurate digital-to-analogue conversion and discrete output stage circuitry for a clean output signal.
Moreover, there's a slew of RCA/digital connectors available on the rear for hooking up external units like MD players and cassette recorders, so the unit can be used as the heart of a small hi-fi system.
Setting up the system was easy enough, although it was strange to discover that three separate aerials had to be installed for the FM/AM and DAB tuners!
We couldn't wait to get playing with the DAB tuner, and after a quick bash on the auto-scan button we were astounded by the huge variety of channels it managed to find.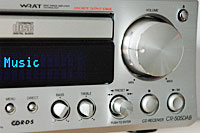 Admittedly, most of the channels sounded absolute rubbish, but it was a revelation to find so much content available.
With all those channels to wade through, it was necessary to set up our own list of favourites, and although it was a bit of a fiddly process, it wasn't long before we'd programmed the thing to our liking.
The nice thing about DAB is the additional text information transmitted with the audio signal, and the CR505's pretty blue LED display served up two rows of text, with users able to choose which DAB information they want onscreen – we fell in love with the scrolling text option that provided details about the station and the song currently being played.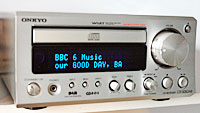 The FM and AM tuners were equally straightforward enough to sort out, with the auto scan quickly scooping up a list of available radio stations.
The onboard CD player usefully supports MP3s recorded on CD-R and CD-RW discs as well as Audio CDs. We had no problems at all playing a wide selection of discs.
With so much on board, working out what does what can be baffling at first, but we were pleased to find that the manual came in just one language instead of the usual United Nations ten-ton tomes.
The Onkyo system is offered in two flavours. The CS-220UK version ships with Onkyo speakers but we bought the bare-bones CR-505DAB unit and wired up our own £100 (~US$180, €147~) Eltac speakers.
The sound was impressive, with a tight, controlled bass and clear soundstage. Cranking up the sound levels, the system coped admirably, with no harshness or distortion marring the thundering output.
The system would make a great bedroom, kitchen or study stereo system, offering a huge range of radio channels and enough poke to accompany the occasional air guitar wig out or party.
If you're looking for a compact, flexible mini-system with loads of features and a big sound, we thoroughly recommend the Onkyo. It's a winner!
FIVE STARS, Now ZERO STARS
See the update below for the reason for the now Zero rating.
Specs:
Amplifier: 25 W/Ch int4 (1 kHz), WRAT (Wide Range Amplifier Technology), Discrete output stage circuitry, Tone control (Bass/Treble), Tone direct and 3 audio inputs and 2 outputs.
CD Player: Plays Audio CDs and MP3 CDs, Wolfson single-bit D/A converter, 20-track programming, Random/Memory/Repeat play modes, Optical digital output.
Tuner: DAB (Digital Audio Broadcasting) with 59 Presets, 5-mode timer (Timer 1/2/3/4/Sleep), 40 FM/AM presets, Automatic FM scan tuning, RDS (CT/PS/RT).
Other features: Battery-free memory backup, Headphone jack, RI-compatible remote control
Sadly, we have to add that after we gave the Onkyo such a glowing review, ugly problems reared their head.
Firstly, the CD player started to stall on new and old CDs, introducing party-wrecking uninvited gaps mid-way through albums.
Changing disks made no difference and after triple-checking that there were no overheating problems, the unit was sent back to Richer Sounds who gladly swapped it over for a replacement player.
Sadly, this turned out to be even worse, with the same CD-stuttering problem and a curious display glitch that sent random characters flying across the screen.
We'd had enough, so once again despatched the unit back to trusty Richer Sounds who were happy to oblige with a full refund.
With two failed units we can't recommend this player to our readers.
Maybe we were just unlucky, but after having major problems with two 'regular' units (i.e. not press review models), we'd hate to see others experiencing the same hassle.
We're now planning a review of a replacement DAB product from PURE – expect a review and news shortly.