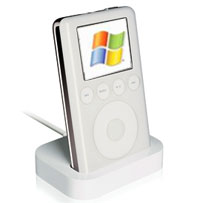 Apple may be forced to shell out royalties to Microsoft for every single iPod it sells after it emerged that Microsoft was first to file a crucial patent on technology used in its iPod.
With Apple selling more than 18 million iPods in the past year alone, the total bill could result in hundreds of millions of dollars pouring into Bill Gates' coffers.
Someone at Apple must have royally cocked up because although the iPod was introduced in November 2001, they didn't get around to filing a provisional patent application until July 2002, with a full application only being submitted in October that year.
In the meantime, Microsoft submitted an application in May 2002 to patent some key elements of music players, including song menu software, letting them claim ownership to some of the iPod technology.
The US Patent and Trademark Office rejected Apple's application in July, saying some ideas were similar to an earlier application filed by John Platt, a Microsoft employee.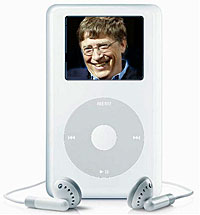 The application doesn't identify the iPod by name (usual for such petitions), describing a "portable, pocket-sized multimedia asset player" capable of managing MP3 music files including "a song title, a song artist, a song album, a song length"
The dispute could lead to Apple having to pay a licence fee for the technology of up to $10 a machine
Microsoft, has magnanimously offered to licence the technology to Apple if awarded the patent with Microsoft intellectual property licensing and business development director David Kaefer smirking, "Our policy is to allow others to licence our patents so they can use our innovative methods in their products."
Apple representatives have stated they will appeal the decision, a process that could drag on for up to 18 months.