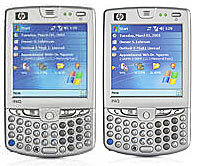 There were red faces at HP (or perhaps a wild cackle from a Machiavellian PR guru) after a video presentation on their website leaked details of their next smart-phone release, the iPaq hw6700 series.
The bean-spilling slideshow featuring the new handhelds was hastily withdrawn, but not before the eagle-eyed owner of Dave's iPaq website downloaded the details for all to see.
The leaked pages offer details of the two new models in the hw6700 series, the 6710 and 6715.
Both run on Windows Mobile 2005 software and offer a full suite of connectivity options: 802.11g Wi-Fi, Bluetooth and quad-band GSM/GPRS.
GPS Navigation is built in (courtesy of TomTom) with one free city map thrown in, and the units are powered by 312MHz Intel XScale PXA270 processors.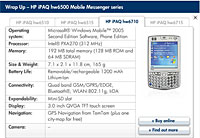 Both iPaqs come with a 3 inch, QVGA 240 x 320 pixel screen, with the handhelds measuring 7.1 x 2.1 x 11.8cm and weighing 165g. Power comes in the shape of a removable 1200mAh Lithium Ion battery
There's 192MB of memory onboard – 64MB of RAM and 128MB of ROM – which is a fair bit more than the 128MB of HP's previous 6500 series, and MiniSD slots provided for expansion (leaving previous iPaq owners with a pile of redundant SD cards.
The only thing that appears to distinguish the 6710 from the 6715 is the 1.3 megapixel camera fitted on the latter.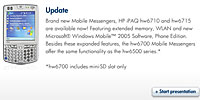 Of course, it's always wise to be wary when information is leaked in this manner, and there is something that doesn't quite sit right in the presentation.
The document makes reference to "Microsoft Windows Mobile 2005 Second Edition Software, Phone Edition" – and we definitely recall reading that the new OS was supposed to be a unified version marking the end of the Phone Edition/Smartphone Edition/PocketPC Edition editions.
On Dave's iPaq website, there's a full range of consumer emotions being expressed – from wild enthusiasm for the new products to deep annoyance from those who've only shelled out for the recently released 6515 (don't you just hate it when that happens?!).