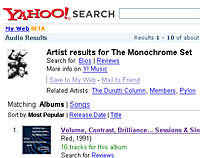 Yahoo is testing a new Audio search facility to let users find audio files on the Web.
The free service, available online at Yahoo Search, claims to have indexed more than 50 million audio files including music downloads, albums, spoken word newscasts, speeches, interviews and, notably, podcasts.
Additionally, the search engine has indexed other audio related information including music videos, album reviews, artist images and artists' Websites.
Although other internet search engines have the capability to find audio files, Yahoo claims that theirs is the dog's bollo's because the company has received permission to index downloadable songs offered by almost all of the biggest mainstream and independent providers.
These include iTunes, Napster, eMusic, GarageBand.com, Napster and RealNetworks' Rhapsody, letting users click to buy once they've found the tunes they're looking for.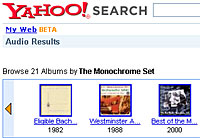 Although the service is still in beta we were impressed with its speedy and simple interface: typing in the name of one of my (sadly) obscure old punk songs immediately brought up the album details, a list of download locations and links to reviews and other released albums.
For many of the songs, you can preview tunes before buying, with a 'Preferred Audio Service' option letting users select their, err, preferred music service from a comprehensive list.
Impressive!
This latest offering from Yahoo reflects the growing trend by search engine companies to expand their services into multimedia as well as text-based searching.
With all of the major players already offering some kind of video search facility, the race is on to provide a true, one-stop search engine capable of indexing everything on the Web.