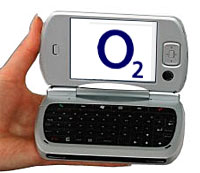 O2 is set to introduce the new Windows Xda Exec, touted as the most feature-packed smartphone ever released.
The pocket-bulging device offers a feast of connectivity options, with support for tri-band GSM/GPRS, 3G, Wi-Fi and Bluetooth 1.2, all running on Microsoft's spanking new Windows Mobile 5.0 mobile operating system.
The Sidekick-inspired smartphone comes in a bloke-satisfying matt black finish dominated by a large 640 x 480 pixel 3.6inch touchscreen.
What really catches the eye however is the nifty 180 degree swivelling design that lets user flip up the screen to reveal a 62-key QWERTY thumb keyboard underneath.
The clever-clogs hinge design also allows the screen to be twisted around on itself and folded down to face the keyboard for protection.
Manufactured by the Taiwan based HTC, the XDA Exec regales under more names than a devious triple-agent, being known elsewhere as the HTC Universal, T-Mobile MDA IV, Vodafone VPA IV, Orange SPV M5000 and Q-Tek 4040.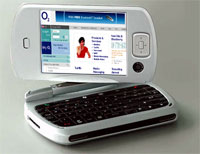 Powering the smartphone is an Intel PXA270 520MHz processor supported by 128MB ROM and 64MB RAM onboard, with expansion taken care of via a MMC/SD Card slot (supporting SDIO).
Video calling is made possible thanks to the two built in cameras, with a teensy-weensy VGA lens on the front of the device and a 1.3 megapixel camera (with flash) on the back of the phone.
With Windows Media Player 10 installed, users can take advantage of multimedia downloading, streaming and digital audio playback, with high-speed access to the internet available through the trusty Internet Explorer software.
Other bundled software includes email and organiser apps, ActiveSync 4.0, Pocket MSN, Pocket Word and Excel.
Wrapping up the package is a pair of stereo headphones, a 3.5mm jack connector, USB charging cable and case.
The whole caboodle weighs in at 285g including the removable battery. Pricing is yet to be confirmed.