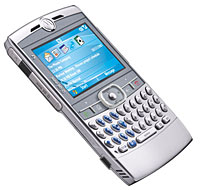 Billed as the "thinnest, lightest, coolest QWERTY on the Planet", the new Q phone from Motorola has set a few hearts pounding in Chez Digi-Lifestyles.
Claimed to be fifty percent thinner than its top competitors, the lightweight Q is based on Motorola's successful RAZR-thin design and offers a full QWERTY keyboard, electro-luminescent keys, one-handed navigation thumbwheel and an internal antenna.
The device sports a large high-resolution display (320 x 240 pixels, 65K TFT) with a l.3 mega pixel still/video camera (with photo lighting) onboard, and the whole caboodle is powered by the new Windows Mobile 5.0 operating system.
The Moto Q comes stuffed with multimedia support, playing back iMelody, MIDI, MP3, AAC, WAV, WMA, WAX, QCELP audio files, GIF87a, GIF89a, JPEG, WBMP, BMP, PNG photo files and supports H.263, MPEG-4, GSM-AMR, AAC, WMV video formats.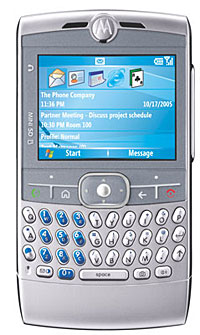 There's a Mini-SD slot provided for extra storage and connectivity is taken care of via Bluetooth, IrDA and mini-USB.
High flying execs too busy to even touch their Moto will appreciate the voice-activated dialling, hands-free multi-tasking, speakerphone and built-in support for Microsoft Exchange 2003.
Ron Garriques, president mobile devices business, Motorola wasn't one to hold back the hysterical hyperbole: "Wickedly cool – when's the last time you heard those words used to describe a QWERTY device?"
"Probably never. At least until now."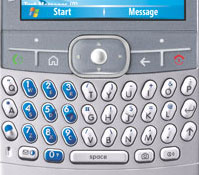 "With the Moto Q, we've combined the best voice, data and design technology in one ultra-thin, intelligent, hard-working, and incredibly must-have device. Today's office space has the potential to be any place you want it to be with Q."
Err, thanks for that Ron. But we won't be calling a QWERTY device "wickedly cool" until it comes with built in Wi-Fi.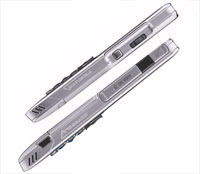 The Moto Q is expected to be available in Q1 2006.
Although it's clearly trying to get a piece of the lucrative Blackberry market, we reckon the collars will be getting sweatiest around the Palm Treo boardroom.
And that's not a very pleasant thought.