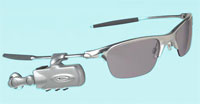 Put two cool branded products together – Motorola mobiles and Oakley sunglasses – and what do you get?
A pair of daft glasses more likely to bring forth guffaws of laughter rather then the intended gasps of admiration, that's what.
Oakley's new RAZRWIRE sunspecs feature a bolted on Bluetooth module which converges the sun-filtering UV-free lifestyle experience with, err, a phone.
Cos Lykos, vice president of business development at Oakley, set off several Hyperbole Alerts as he gushed wildly about the product: "RAZRWIRE's fully integrated design takes advantage of the world's best eyewear and wireless technologies to give freedom of life, movement and communication anywhere and everywhere you want to be, so now seeing and hearing is believing."
If you're excited by the prospect of wandering about talking into your sunglasses looking like an arse, we can report that RAZRWIRE specs includes a Motorola Bluetooth module, supporting Bluetooth 1.1 and 1.2, with a range or 30 feet (10 metres).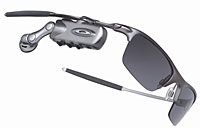 The Bluetooth box clamps on to one of the arms of the sunglasses and sports volume controls and an answer button on its lower edge.
You'll also be able to impress people by saying that you have to go off and charge your sunglasses, via the included wall charger or a USB port, with the device offering five hours talk time and 100 hours standby time.
The sunglasses are fashioned from Oakley's super light O-Luminum and XYZ Optics, and will be available in early August in Cingular Wireless stores, and online at Oakley, Motorola, and Cingular's websites for US$294.99 (~£170, ~€246).
Users in the habit of regularly sitting on their sunglasses in the pub are advised to avoid this product.
Our verdict: As cool as a heatwave!
Motorola and Oakley Announce Launch of RAZRWIRE With Cingular Wireless