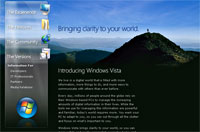 After a morning of fishwife-hot rumours, it's been officially announced that the next version of Microsoft Windows – previously code-named Longhorn – will be known as Microsoft Vista.
Although wags are already suggesting that the word might apply to the distant view of the product consumers will get for many months/years, Microsoft remains confident of an ontime release in the second half of next year.
Naturally, a big new product needs a suitably uplifting tag line, so the cappuccino-supping, flipchart-flapping, brainstormin' visioneers at Redwood have come up with:
"MicrosoftVista. Clear, Confident, Connected: Bringing clarity to your world."
The story was first broken by anonymous sources close to the company (that generally covers anyone from the cleaner to the guy who delivers the water cooler) who revealed that Microsoft had unveiled their new name in Atlanta during the company's internal sales event, known as the Microsoft Global Sales Briefing (that's 'MGB' to those in the know).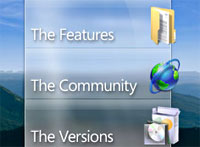 Possibly because of a fear of failing to release the product in the year bearing its name, Microsoft has once again shied away from its earlier practice of releasing dated operating systems (Windows95, Windows98 etc).
The current major version of Windows originally regaled under the name of 'Whistler' during development before being christened WindowsXP prior to its public release.
Brad Goldberg, a Microsoft product manager, said that the first beta of Vista is slated for release on Aug. 3 and will be targeted at developers and IT professionals.
Goldberg stated that Vista's three design goals include better security, new ways to organize information, and seamless connectivity to external devices.
A second test release is anticipated to be debuted before Vista's full release next year.
More details about the new operating system's features will be announced on August 3.