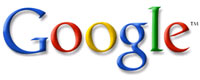 Champagne corks were firing off at Google like a military salute as the Internet search engine kings revealed that their profits had jumped more than 300 per cent in the second quarter this year.
Fuelled by continued growth in Web advertising, Google raked in a revenue of $1.38 billion (~£788m ~€1.13bn) its second 2005 fiscal quarter, up 98 per cent compared with the same period last year.
Once you take off the $494 million (~£282m ~€406m) paid by Google to its ad network partners (known as traffic acquisition costs), revenue racked up to a wallet-delighting $886 million (~£506m ~€728m).
Net income came in at $343 million (~£195m ~€282m), favourably comparing with the $79 million (~£45m ~€64m) recorded in 2004's second quarter, while revenue from Google sites totted up to $737 million (~£421m ~€606m) – up a thumping great 115 per cent.
Revenue from Google ad network partners was similarly rosy, totalling $630 million (~£359m ~€518m), an increase of 82 per cent.
"We are very proud of our results. Business is very good here at Google," said chief executive Eric Schmidt, dodging the flying champagne corks. "It's really because we've figured out ways to stay focused on end users and innovation."
Although the vast majority of Google's revenue comes from paid advertisements on search results pages and on partner sites, the company has been diversifying with new products and services like video search and mapping.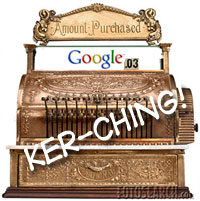 The company's fortunes are currently on a stratospheric trajectory, with April's first-quarter profit almost six times higher than a year earlier.
Not surprisingly, Google's share price has soared, nudging above $300 (~£171 ~€246) a share for the first time last month and giving the company the honour of being the world's biggest media group by stock market value.
Recent figures from Nielsen/NetRatings revealed that Google has attracted in excess of 78.5 million US visitors last month, up 25 per cent from a year ago, with the Google and Blogger brands ranked numbero uno in search and Web hosting, respectively.
Meanwhile, Yahoo had to make do with cheapo Cava as figures posted on Tuesday revealed a higher second-quarter profit but with revenue falling short of analyst expectations.
This news sent Yahoo! shares tumbling down as much as 10 per cent in after-hours trading.