A British court has fined a man £500 ($870, €720) for using a residential wireless broadband connection without permission.
In what is believed to be the first conviction of its kind in the UK, a jury at Isleworth, Middlesex court found Gregory Straszkiewicz, 24, guilty of dishonestly obtaining an electronic communications service and possessing equipment for fraudulent use of a communications service.
The case was brought under the Communications Act 2003 with the Crown Prosecution Service saying he was guilty of 'piggybacking' a household wireless network.
Police officers nabbed Straszkiewicz after he was spotted by locals wandering around a residential area looking for "free" net connections.
He was reported to have attempted this several times before the Old Bill invited him for a date in the cells.
In addition to the fine, Straszkiewicz was also sentenced to a 12 months conditional discharge and had his laptop confiscated.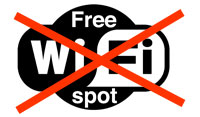 We have to say this seems a little harsh as there appears to be no evidence that there was any hostile motive behind his actions.
Earlier this month, we reported on a Florida man being arrested for a similar offence.
It remains unclear whether mobile Wi-Fi users accidentally connecting to another party's unsecured, unencrypted connection would risk prosecution.
The fact that many cafes and bars now offer free Wi-Fi Web access surely make it difficult to enforce this law, although there's clearly a different case to answer when individuals are persistently wandering around residential streets with their laptops flipped open.
As ever, the solution is simple, and that's for people running Wi-Fi connections to use the encryption tools provided.
And if you don't know how to do that, here's a tutorial: Wireless Home Networking, Part III – Wi-Fi Security