After a long cuddle on the sofa, Napster and Ericsson have announced a global partnership to offer a fully integrated new digital music service aimed at mobile phone customers around the world.
The service – yet to be given a snappy name – will combine elements of Napster's popular PC offering and Ericsson's personalised music service and serve up iTunes-like song downloads with a monthly subscription plan.
Scheduled to go live in Europe over the next 12 months, the service "accommodates mobile operator participation in all revenue streams" and will initially be offered to operators in selected markets in Europe, Asia, Latin America and North America.
"Ericsson's world-leading wireless and telecommunications solutions experience, along with their exceptional client base, make them the ideal partner to deepen Napster's presence in the global mobile arena", entoned Chris Gorog, Napster's chairman and CEO.
"Ericsson and Napster are uniquely suited to offer mobile operators a simple, cohesive and personalised digital music experience for their consumers", he added.
The new joint service will let users coordinate wireless and PC downloading of digital music (in both subscription and a la carte models) with songs downloaded via the phone playable on the user's home PC.
The service works on most suitably equipped handset models and networks, with next-generation phones being able to support the digital rights management stuff.
The service is designed to deliver a "complete digital music solution under one brand", with users benefiting from a consistent user interface and integrated billing from their mobile operator.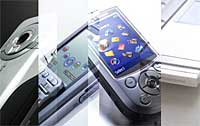 The two companies hope that their service will allow mobile operators to get their grubby mitts on the "growth opportunities for personalised digital entertainment on the mobile phone and PC" and will, no doubt, include the usual slew of lucrative, downloadable offerings like ringtones, master tones, images, wallpaper and video content.
With doe-like eyes, Ericsson CEO Carl-Henric Svanberg praised Napster as "the strongest digital music brand in the world", adding: "With Napster we are uniquely positioned to deliver the easy to use, complete suite of music offerings our customers are asking for."
It's anticipated that the announcement could stir things up in the accelerating mobile music sector, driven ever-onwards and upwards by the growth of high-speed networks in Europe and Asia.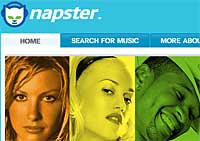 More and more mobile operators are already cutting themselves a slice of the mobile digital music services pie, with the largest Korean mobile phone operator recently purchasing a controlling stake in the country's biggest record label.
Napster's no stranger to the world of mobile music either, offering limited access to its service through selected US phone networks and operating a ringtone download store.
If the joint venture manages to persuade mobile phone operators that customers are going to lurve the integration between handsets and online services, the two companies could be on to a winner.