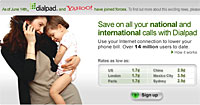 Yahoo has whipped out its wallet and snapped up DialPad Communications, a company making VoIP software allowing users to make cut-price calls over the Internet.
Yahoo will use DialPad to expand its product array in the Voice over Internet Protocol (VoIP) sector.
Based in California, DialPad is a six year-old company with around 40 employees competing in the hot potato sector of rerouting calls from computers to servers to telephones.

The company offers a selection of VoIP subscription plans to users – including prepaid VoIP calling cards – with charges ranging from as little as 1.7 cents per minute for calls to more than 200 countries.
DialPad has been offering calling plans for about two years and boasts more than 14 million users.
Although the specifics of the deal are yet to be released, Yahoo spokeswoman Joanna Stevens said that the new products integrating the DialPad technology could be debuting within a month. Pricing has yet to be announced.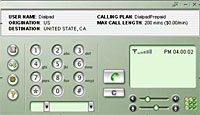 In its announcement, Dialpad served up a bit more information about the deal: "Yahoo plans on leveraging Dialpad's PSTN calling capabilities to add to Yahoo Messenger's recently enhanced PC-to-PC voice calling offering. These products are very complementary and by combining our strengths, we are better positioned to take advantage of the fast growing IP telephony market and build a range of exciting new services."
The acquisition comes hot on the heels of Yahoo introducing a test version of its instant messaging software which bundled an Internet telephony component that allowing users to make free computer-to-computer calls.
With rumours recently circulating the Web about Yahoo scooping up Skype, it now seems that Yahoo is looking to take on the VoIP upstart head on. Fight! Fight!