In an interesting reversal of new media trends, online leisure retailer lastminute.com is to launch its first print magazine.
The new "lifestyle" title, set to launch in mid-July, will be sent to the retailer's top 100,000 customers and will include travel mag-style guides and more informal features on holidaymaking and leisure pursuits.
The move reflects the company's strategy to reposition itself as a "lifestyle brand" rather than just a run-of-the-mill online travel retailer.
The 72-page quarterly title will be headed up by former-Guardian Guide and Hotdog editor Ben Olins, who is tasked with editing the magazine and leading an editorial and design team at publishing company Zone, appointed to oversee the process.
Inhaling deeply on a heady perfume of Eau de Buzzword, James Freedman, chief executive at Zone rhapsodised, "Lastminute.com has developed a fantastic business inspiring and fulfilling the dreams and aspirations of a growing group of dynamic, confident and adventurous consumers.
"Creating a magazine that reflects the choices and interests of this group of 'action-leaders' will reinforce and highlight Lastminute.com's position as a lifestyle icon."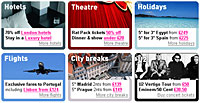 Not to be outdone, Brent Hoberman, chief executive of Lastminute.com, brewed up his own beefy brand of buzzword blather: "The launch of this magazine is a fantastic opportunity to engage with our most loyal customers and reinforce our brand values through inspirational and informative editorial.
Our 'raison d'être' is to improve people's leisure time and this lifestyle magazine which generates ideas on how to do just that is the ideal way to give something extra to our customers."
Lastminute.com's in-house sales team will be handling the magazine's advertising, marking their first foray into off-line advertising.
With the magazine offering readers "a mix of pure temptation and stimulation to try out new experiences", it's clearly hoped that the publication will stimulate online sales for the company.
Today's announcement follows news of the company's £577m takeover by Sabre Holdings, the owner of Travelocity.