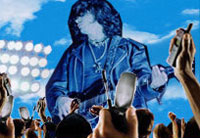 Back in the old days when Glastonbury was a field of medieval mud occupied by confused hippies and LSD travellers, the customary way to show your appreciation of the band was to flash the occasional peace sign or waft a spliff skywards.
Come the punk revolution, and there was no better way to show your love for a band than by propelling copious amounts of phlegm in their direction.
By the 80s, over-excited fans felt the best way to express a heartfelt love for a band was to clamber onstage and then stage dive back into the audience, while the E'd up 90s rave generation couldn't get it together to work out where the stage was so just swirled fluoro things around their person instead.
In America, it was a somewhat different story, with concert goers traditionally expressing a curious penchant for holding lighters aloft, a craze that never really caught on in Blighty because, frankly, it looks really daft.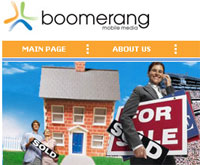 For today's hi-tech toy generation, new ways of bigging up a band have developed.
Mobile phones have ensured that lighters have been replaced by the blue glow of mobile phones, with forests of camera phones springing up and down at concerts like demented flamingos.
Not surprisingly, this swaying sea of interactive technology soon caught the attention of The Man, who quickly saw an opportunity to coin in it from the captive crowd.
Step forward Boomerang Mobile Media who, in partnership with Strategic Artists Management, have come up with the idea of allowing fans to send SMS messages to the band and then see their words appear on a big onstage screen. For a price, naturally.
Fans don't even have to be at the gig, with sofa loafers stoned at home watching the gig on TV also able to 'enjoy' the thrill of seeing their texted mumblings appear onstage.
The concept's already been tested out on a promotional tour for Anastacia in Europe, where around ten percent of the attendees were happy to hand over 1 euro each (~£0.68 ~US$1.26) for the privilege of blasting inane messages onstage for all to see.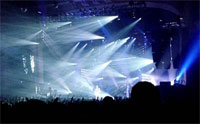 We're not sure what the remaining 90% of the crowd thought of this pointless onscreen nonsense, but we'd be reaching for our phone zappers in double quick time.
Call us old fashioned if you will, but when we go to gigs we want to see the band and not be distracted by an endless stream of "KT LUVS THE KLRZ 4EVER" and "WIL U MARRY ME THOM?" beaming in our faces.
Simon Renshaw, of Strategic Artists Management, soaked up every cash-till ringing minute of the show: "Fans loved the concept and were sending multiple text messages to our stage front screens in an effort to see their names, talk to their friends, tell Anastacia how much they love her and win prizes."
"Fans were so excited about it that marriage proposals were proffered onscreen," he gushed.
But the real profit may come from turning the band's backdrop into a giant size virtual mall, with audiences able to call in and buy merchandise advertised throughout the gig.
Boomerang Mobile Media founder and CEO Glenn Field rubbed his hands and explained the scheme: "You see something you like, and we deliver it to your home."
As Sid Vicious and the ghost of Rock'n'Roll reached maximum RPM in their graves, he continued, "These are exclusive items purchased through the security of your phone, and the day it should have arrived you'll get a follow-up phone call to confirm you received it."
Boomerang Mobile Media and Strategic Artists Management are already dreaming up additional e-commerce opportunities, including the ability to allow fans to send camera-phone pictures to the venue screens along with their text messages
No interactive stone is being left unturned in their attempts to fleece, sorry, offer maximum interactive retail opportunities, to the hapless punter.
The first time a consumer buys from Boomerang via a mobile, a live operator will jump into action and invite the user to register a personal PIN for future purchases and other products.
This can then be used to milk fans dry with subsequent mobile-only 'exclusive' offers, pre-orders and a myriad of other pocket-draining merchandising discounts.
Boomerang are applying the marketing experience they gained last year when working with Def Jam Recordings artist Ghostface on a festival bill.
"We allowed Ghostface to connect with fans who either were fans or who heard his music that day and became fans," Field enthused.
"We projected a number inviting people to interact – to meet him, visit him on the tour bus, things like that – and when you called you heard a recorded message from Ghostface. People got to hear their favourite artist talk to them on their most personal device."
Cash from chaos, anyone?