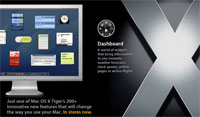 Just 17 days after releasing its 'Tiger' OS X 10.4 operating system, Apple has issued a sizeable bug fix update after growing gripes from customers.
The hefty 37MB patch delivers upgraded graphics card drivers and fixes at least 35 bugs in the operating system, including problems with bundled applications such as the Mail client, Safari browser, iCal, Mail client, iSync and iDVD.
Almost immediately after Tiger was launched, customers were posting up on Internet bulletin boards detailing problems varying from networking hassles to applications that would crash under certain circumstances.
Upgraders weren't too pleased to discover that Safari would "unexpectedly quit" when right clicking on some PDF files or graphics or that iDVD would commit hari-kari when hiding it while burning a DVD or saving a disc image.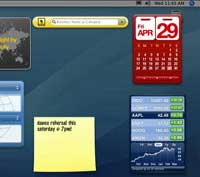 Russians were also most annoyedski to find the iDVD player bombing when the operating system was set to their home language (something that affected a host of other languages too).
A security fix included in the update disallows files, applications and Web pages from automatically opening at the password prompt, appearing whenever a user wakes the computer from sleep or stops a screen saver.
Apple's support site claims the patch also improves the reliability of the operating system's Active Directory plug-in.
Talking to vnunet.com, senior analyst Joe Wilcox at Jupiter Research commented: "The quick update really shows how responsive Apple tries to be in respect to its operating system."
But there was a sting in Wilcox's praise, as the analyst pointed out that releasing such a man-sized patch just weeks after the launch revealed a flaw in Apple's development process.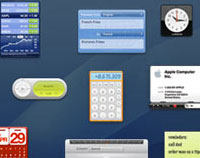 "A lot of things [at Apple] are pretty secretive; there aren't necessarily as many eyes looking over the products as there could be," said Wilcox, commenting on the company's decision to use a limited group of beta testers looking at the code.
"Apple has a developer programme that catches a lot of things, but certain problems won't be uncovered until a whole lot of people have the software," he added.
The 10.4.1 update can be downloaded manually from Apple's Web site, or retrieved automatically from within the Tiger OS using its Software Update feature.
About the Mac OS X 10.4.1 Update
Apple download page
vnunet.com