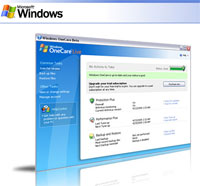 Microsoft has announced that it would begin testing OneCare Live – a PC-health care fix-it all application – with a general release sometime next year.
Battered by Window's less-than-glowing reputation as the des res of choice for viruses, Trojans, spyware apps and a host of other lurking undesirables, Microsoft is trying to soothe the worried brows of its consumers and make home PCs safer.
Microsoft says that OneCare, a security-software product, will do more than just battle against malicious attacks that flood inboxes with spam and spawn screenfulls of evil pop up ads.
The company intends to make it a preventive tool that will keep personal computers healthy with an easy-peasy automated system that takes all the guesswork and hassle away from the computer user.
As well as virus, firewall and spyware protection, the program will include performance and reliability tools offering automated maintenance tasks such as disk cleanup, hard-drive defragmentation and file repair.
Windows OneCare will also offer backup and restore capabilities, enabling automated backup of files by category on CD and DVD
"Customers don't differentiate between security issues, maintenance issues and support issues," observed Dennis Bonsall, Group Program Manager for Microsoft's Technology, Care and Safety group. "They just want someone to take care of it."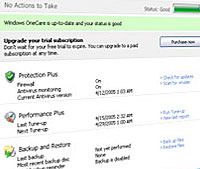 OneCare is a separately sold subscription-based service designed to work as a mainly "hands-off" application, quietly doing its good deeds in the background while sending security updates to users' computer systems without them having to download or install the fixes.
From this week onward, Microsoft will begin testing the OneCare service amongst its own employees, before launching an invitation-only beta version for consumers in the summer
You'd think that the entry of the world's biggest software maker into the anti-virus and security market would send feathers flying amongst established big names like McAfee and Symantec, but McAfee President Gene Hodges was all chilled out: "For people buying security software, it's typically all about trust. Who do they trust to secure their computers and do this on a reliable basis? Microsoft, even though it's a huge, powerful company, is going to have to prove to people that it can build good products and do the job well."
Symantec were quick to throw an equally nonchalant shrug, issuing a statement last Friday saying that it was ready to compete with Microsoft, while confidently pointing out "the strength of the relationships we have with tens of millions of consumers around the world."
We remain a little less-than-convinced that Microsoft haven't the potential to seriously torpedo the profits of the current security big guns, and Van Baker, an analyst at researcher Gartner seems to agree,
Commenting that the Microsoft product could be attractive to less tech-savvy users, Baker opined; "Symantec, McAfee and Trend Micro all offer a fairly complex offering and customers don't know what else they need to worry about," Baker said. "Microsoft is simplifying what is right now a mess, and in addition to protecting you, it's also going to make sure that your computer runs well."