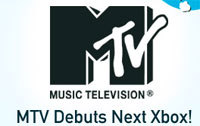 Xbox 360, Microsoft's successor to their popular Xbox gaming console, will be "unleashed" tonight at a celebrity-packed launch broadcast on MTV, which shows at 8pm in the UK. It was launched on US MTV last night.
With a press release positively hyperventilating with hyperbole, Microsoft breathlessly extols the virtues of their new games machine, dramatically waffling on about "a dawn of a new era in entertainment."
Unlike the manly, chunky lines of the first-generation Xbox, the 360 has been given the ladyboy treatment, with smooth, concave lines covering the rippling muscle lurking below.
And there certainly is a beast in the box, with the unit powered by a custom-made IBM PowerPC-based three-core chip running at 3.2GHz, supported by 512MB of GDDR3 RAM – enough beefy brawn to keep up with even the nippiest modern PCs.
Graphics performance should be speedier than a rocket-assisted rabbit too, with an ATI GPU running at 500MHz, backed up by 10MB of embedded DRAM.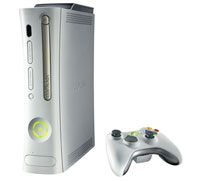 The Xbox will ship with a 12X dual-layer DVD-ROM drive – supporting progressive-scan DVD movies and a host of DVD and CD formats – three USB 2.0 ports, two memory unit slots and support for four wireless game controllers.
Users will also be able to stream media from portable devices or Windows XP PCs, as well as rip music to the Xbox's detachable (and upgradeable) 20GB hard drive.
Networking needs are catered for with a built-in Ethernet port and support for 802.11a, b, and g Wi-Fi protocols.
"With the first generation of Xbox, our ambition was to change the way people think about video games," said Robbie Bach, chief Xbox officer at Microsoft. "Starting today with Xbox 360, our ambition is to transform the way people play games and have fun."
Microsoft – never one to understate their case – are claiming that they will "unleash the greatest game lineup in the history of video games" when the Xbox launches in North America, Europe and Japan over Christmas.
They've certainly persuaded a gaggle of major league gaming companies to come onboard, with initial releases including NBA 2K6, Call of Duty 2, QUAKE 4, Madden NFL 06, Need for Speed Most Wanted and Tiger Woods PGA TOUR 06.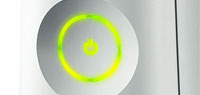 "Xbox 360 marks the beginning of a renaissance in video games," whooped Don Mattrick, president of Worldwide Studios for Electronic Arts. "The unbelievable Xbox 360 games in development at Electronic Arts will accelerate the industry's mission to make video games the pre-eminent form of all entertainment."
All the games are designed for high-definition, wide-screen televisions, although they'll work on regular TVs.
Players will be able to access Microsoft's free Xbox Live online service, which allows them to connect with friends through Xbox Live voice chat, send and receive text and voice messages and stuff their detachable Xbox 360 hard drive full of downloadable demos, trailers, new game levels, maps, weapons, vehicles, skins and community-created content
Gamers who shell out for the premium service, Xbox Live Gold, can join multiplayer online games and enjoy enhanced options for online game matchmaking and a greater ability to provide feedback on opponents.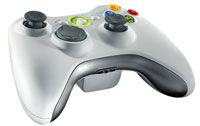 Naturally, gamers love to customise their experience, so there's a camera option to let vain players add their mugshots into games or even see their friends onscreen as they frag them to an inch of their worthless lives.
As is the current vogue, the appearance of the actual Xbox can be customised too, with a range of interchangeable Xbox Faces on offer.
Although the system is aimed at mad-for-it gamers, the Xbox is also a full entertainment system offering DVD movie, CD music and photo playback support.
So long as they're equipped with a USB 2.0 port, MP3 players, digital cameras and Windows XP-based PC port can all plug into an Xbox 360 system to stream music and photos.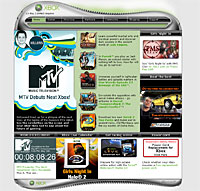 Xbox 360 players can also access recorded TV and digital movies, music, video and photos stored on Windows XP Media Center Edition 2005-based PCs through any Xbox 360 system in the house.
We've yet to get our greasy paws on a machine, but Microsoft have certainly raised the stakes with their new Xbox, although arch rivals Sony have yet to, err, unleash their PlayStation 3, a potentially more powerful box offering support for new high-capacity Blu-ray discs.
With both units enjoying enthusiastic support from game makers and gamers, some of the real bloody battles could soon be taking place off-screen.
Promo video for Xbox 360 (Windows Media)
If you thought Xbox 360 was just about gaming, skip to 3 minutes into the video to see how they're transforming it into a media centre.
XBox