Telewest Broadband today announced plans to transform its TV service, giving consumers greater access and control over additional digital programmes.
The UK giant intends to roll out TV on demand – where sofa-lolling users pick programmes from a menu and watch it whenever they want – to all its one million digital TV customers by early 2006.
Telewest are also widening the range of on-demand programming available and boosting the existing movie service, currently offering over 200 current and library titles.
The extended service will include the best of the previous week's programmes, including 60 hours of BBC content, at a cost of jack-diddly-squat to customers.

There will also be a mix of free and subscription services including popular TV series, music videos and niche content.
Customers can view programmes just like watching a DVD or video, with options to watch it when they want, and then pause, fast forward and rewind to their heart's content.
Following the initial launch of TVOD in Bristol, Telewest will introduce the service in stages throughout the second half of this year, starting with 26,000 customers in Cheltenham who are set to receive the service in early July.
Telewest Broadband has the highest percentage of TV customers taking digital, currently 87%, of any cable company in Europe and North America.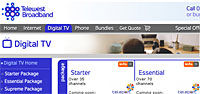 Eric Tveter, president and chief operating officer at Telewest sunk deeper into his deluxe executive chair and glossed: "We are transforming TV as we know it by giving consumers both a superb choice of programmes and the flexibility to watch them whenever they want. We don't ever want to hear our customers say there's nothing on the box or that they have missed their favourite programme."
"And while digital TV goes from strength to strength," he cackled triumphantly, "analogue has finally had its day."
Digital TV, comms and broadband behemoths Telewest are clearly keen to stamp their feet all over digital TV market, investing around £20 million (~US$13.6m ~€29.3m) in the development of TV-on-demand and personal video recorder (PVR) services in 2005.