Microsoft has unveiled Windows Mobile 5.0, a new version of its Windows operating system for mobile devices.
The new OS includes features to make it easy for device makers to equip phones and handheld computers with typewriter keyboards and iPod-sized hard drives.
The announcement by Chairman Bill Gates at the company's annual conference for mobile software developers in Las Vegas, marked the end of the distinct Pocket PC and Smartphone brands of the operating system.
Microsoft initially offered a single mobile platform based on Windows CE (short for 'consumer electronics') with the platform fragmenting into Pocket PC PDAs, "smart" cell phones, and then Pocket PCs equipped with phones.
By dumping the 5-year-old Pocket PC brand and the 'Smartphone' label, Microsoft is elbowing its Windows Mobile platform onto the same table as rival mobile device platforms such as Symbian and BlackBerry.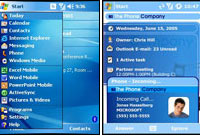 Although the underlying software code remains 90 percent the same as its predecessors, the new Windows Mobile removes some technological distinctions that gave the phone and PDA platforms different capabilities.
This means that integrated support for Wi-Fi will be available for smart phones rather than just Pocket PCs, and that Pocket PCs will now include "persistent" memory storage.
This preserves basic user information, contacts and personal settings when a device's battery runs out of juice and was previously only available for smart phones.
The new Windows Mobile platform rather belatedly adds support for internal hard drives, with Microsoft hoping that device makers will design phones and organisers with enough storage capacity to take on the likes of Apple's iPod
Other feature enhancements in Windows Mobile 5.0 include tools for "push-to-talk" and video conferencing, support for 3G and USB 2.0, and improvements in soft-key operation and landscape display orientation.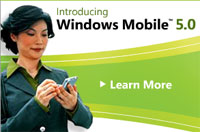 Swivel action business folks will appreciate updates to the mobile versions of Microsoft Word and Excel, with the software providing more consistent formatting of documents created on a computer and allowing charts to be created from a spreadsheet.
Windows Mobile currently generates the loose change in Microsoft's voluminous pockets, with the combined software revenue from mobile and embedded devices totalling US$80 million (~€62.5m ~£43m) in the first three months of 2005.
Although this was up 31 percent from a year earlier, it only amounted to a piffling tenth of Microsoft's overall revenue for the quarter – but things are likely to change with Microsoft's forthcoming marketing blitz (rumoured to reach US$100 million [~€78m ~£53.5m]).
Microsoft execs haven't given out exact figures, but Susan DelBene, a corporate vice-president of marketing for the mobile and embedded devices division at Microsoft said, "You'll see a bigger marketing effort from us than you've ever seen in the past for Windows Mobile."
At stake is a lorra lorra loly, as smart phones are one of the fastest-growing segments of the tech industry, with sales expected to increase 67 per cent this year (32.2 million units). Compare that to the single digit growth of the PC market and you can understand Microsoft's enthusiasm to get their sticky fingers in the smartphone jam jar.