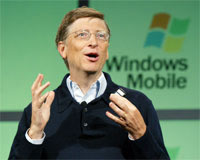 Microsoft ubermensch Bill Gates foresees mobile phones overtaking MP3s as the top choice among portable music players, while dismissing the popularity of Apple's iPod player as unsustainable.
"As good as Apple may be, I don't believe the success of the iPod is sustainable in the long run," he commented in Frankfurter Allgemeine Zeitung.
"You can make parallels with computers: Apple was very strong in this field before, with its Macintosh and its graphics user interface – like the iPod today – and then lost its position," Gates added.
Isn't it just so obvious that Gates hates the success that Apple has found? It drives him crazy. He thought it was going to go away, and has now realised it isn't.
It's now clear that Gates and Microsoft are on the attack, gunning for iPod. How do we know that? Well, previously Microsoft used to refer to it in the generic – "Portable music players.". Now it's iPod, and Apple are being praised, even if it is damned by faint praise after that. Something tells us that Steve Jobs will be deriving huge pleasure from this.
Apple currently has around two-thirds of the global market for MP3 music players, which can store thousands of songs on compact disk drives or teensy-weensy flash memory chips.
iPods have shifted off the shelves faster than a ferret on a frying pan, with Apple selling more than 5 million iPods in the last quarter.
Apple's white wonder now faces increasing competition from a mightily miffed Sony who are keen to claw back the dominance it once enjoyed with its iconic Walkman brand, and from mobile phone companies busily integrating MP3 players into handsets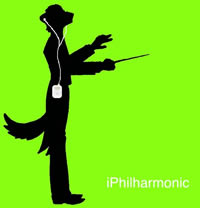 "If you were to ask me which mobile device will take top place for listening to music, I'd bet on the mobile phone for sure," Gates told the newspaper.
Sadly for old Billy boy, Microsoft's smart phones have been overshadowed in the US by Research In Motion Ltd.'s BlackBerry wireless e-mail device, boasting over 3 million units sold so far with a bright future predicted.
The recent release of Windows Mobile 5.0 reflects Microsoft's determination to become a big noise in the burgeoning market for digital movies, pictures and music and grow beyond its core Windows operating system business.
Gates said that their new Windows Mobile 5.0 – which pops up e-mails on a user's phone as soon as they arrive – would be a cheaper alternative. "The BlackBerry is great, but we're bringing a new approach," he said.
"With BlackBerry, you need to link to a separate server, and that costs extra. With us, the e-mail function will already be part of the server software."
"Therefore," he added, before going for the karate-kick killer boast, "I'd venture the prediction that Microsoft will make wireless e-mail ubiquitous."