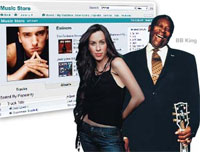 Yahoo has slapped a king-sized gauntlet on the floor as it announced plans to roll out an aggressively-priced online music service.
The new service, unsurprisingly dubbed Yahoo Music Unlimited, will give downloaders unlimited access to over a million music tracks for US$6.99 (~£3.70 ~€5.42) a month, or, alternatively, for US$60 (~£31.86 ~€36.58) a year.
The service, which also lets users transfer the songs to compatible portable music players, massively undercuts its rival's services.
RealNetworks, for example, charge a comparatively hefty US$179 (~£95 ~€139) a year for a near-identical service while Napster charging US$14.95 (~£7.95 ~€11.60) a month for a portable music subscription service and US$9.95 (~£5.25 ~€7.72) a month without the portability option.
"We look at subscriptions as a way to get people to pay as little something for digital music as opposed to ripping their own CDs or stealing music." Yahoo Music General Manager David Goldberg said.
Yahoo hopes that the low, low, low price is designed to get users hip to the subscription music model, which allows consumers to play downloaded music and "streamed" tracks whenever they want — as long as they keep shelling out for the privilege.
Just like Napster's similar service – which offers a similarly vast online music library – the second a customer's cash flow stops, their opulent oasis of a record collection will rapidly turns into a tune-free desert.
Yahoo's price pruning bonanza looks set to spur further expansion of the online music business, which despite huge growth still only accounts for about 2% or less of total music sales, according to analyst estimates.

Yahoo's hugely popular Website – visited by 100 million US users every month – should give their music service a big head start, with the company being able to let rip with the kind of massive marketing muscle that few online music rivals can match.
"It's a hugely aggressive move, a shot in the arm to the subscription notion," says David Card, an analyst at Jupiter Research, predicting subscription revenue will be larger than downloads within a few years, from roughly equal shares today.
iTunes, the current online music market leader, provides a different service, preferring to charge users on a song or album download basis, with Apple previously being critical of the subscription model.
Some suspect that they may be pressured into adopting a similar offering once Yahoo's PR machine rolls into action.
Although it's generally accepted that subscription services are more lucrative than charging per download, some analysts are wondering whether Yahoo will actually be able to make any dosh at the US$60 (~£31 ~€46) annual subscription level.
Yahoo's David Goldberg has expressed confidence that the service will be profitable, although conceded that the company could eventually raise its fees. He's been a bit sketchy with the small-print details too, but says Yahoo will pay music labels royalties linked to its revenue and subscriber numbers for the service.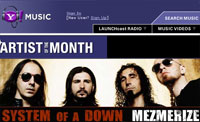 Yahoo's subscription service will work with selected portable MP3 players that use Microsoft's digital-music format – there's currently around compatible 10 devices available, including Dell's DJ player and Creative Technology's Zen Micro.
Owners of compatible devices will have to install new software on them to be able to use the service, with newer models offering built-in compatibility.
Apple may be slightly perturbed to learn that the Yahoo's service will not work with their iPod, despite it being the biggest selling digital music player on the planet and probably elsewhere.
Yahoo's testosterone-charged move reflects their determination to grab a Brobdingnagian chunk of the online music pie, with the company splashing out US$160 million (~£85m ~€124m) last year to acquire MusicMatch, a company already offering a song/album download deal with a non-portable subscription service.
MusicMatch's subscription charges have now come down to match the new service with Yahoo expected to merge the two services shortly.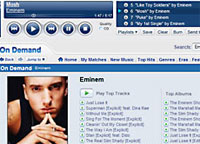 The new service will include free software a la Apple's iTunes jukebox, with the bonus of letting subscribers rummage around in their friends computers for songs, and then listen to their tracks if the music is part of Yahoo's catalogue.
To further entice subscribers, Yahoo is looking to incorporate the social aspects of listening to and discovering music through tie-ins with other Yahoo services -like gamers on Yahoo's site being able to listen to the same music as friends they are playing with.
Yahoo Music users not 'down' with this subscription thang will still be able to buy tracks under the traditional download model, with fees of 79 cents (~£0.42 ~€0.62) per song for Music Unlimited subscribers and 99 cents (~£0.53 ~€0.77) for nonsubscribers.