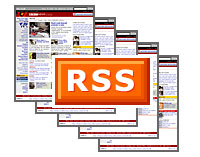 The BBC has opened up its RSS news feeds to commercial Websites for the first time, with a new set of terms and conditions letting other sites integrate the BBC feeds for free, and free from offline contractual negotiation.
Previously, RSS feeds for BBC new stories have only been available to individuals via RSS Readers, but this move will put the UK broadcasting giant in direct competition with heavyweight news agencies in the RSS market, such as Reuters and the New York Times.
Opening up the service to other sites means that Webmasters can utilise BBC content on their own sites, with available feeds being marked by an orange RSS button on BBC pages.
A comprehensive range of feeds will let users subscribe to specific sections and not just the homepages, so that connoisseurs of real football could just subscribe to the white knuckle excitement of the BBC's Cardiff City FC homepage.

Pete Clifton, editor of the BBC News Website said: "Liberating the availability of our content for re-use is an important step for the BBC. We've been a bit cautious about it up to now but there's a real demand for us to provide this service. If we are to build public value it's important that we respond to this demand."
BBC News and Sport headlines will initially be offered as RSS feeds, with other parts of the BBC expected to be rolling out feeds over the coming months, possibly including the latest film reviews or updates from the Top of the Pops Website.
The BBC's site – a firm favourite in the office – remains one of the world's busiest Websites, with figures for April 2005 showing 18 million click-throughs generated by the feeds to the bbc.co.uk/news and bbc.co.uk/sport Websites for the month.