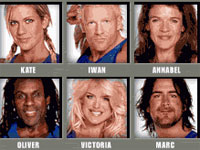 UK third-generation mobile phone network 3, have teamed up with TV production and distribution company Granada to bring the popular ITV show, Celebrity Wrestling, to video mobiles for the first time.
(Note to readers unacquainted with this particular TV show: it's a series of dreadful wrestling matches featuring barrel-scraping Z-List 'celebrities' desperately seeking tabloid fame).
The new agreement will give 3 network users access to the show's 'highlights' with the added 'bonus' of backstage outtakes.
Gareth Jones, COO of 3 thinks the idea is a whoop-de-do winner: "TV shows like this are ideal for our 'Today on 3' service, we're tapping into programmes that we know our customers really enjoy and we're providing it to them in bite-size chunks on 3."
Building up to a crescendo of celebrity-fuelled excitement, Jonesy went on: "Our customers are watching Celebrity Wrestling at home on TV, reading about it in the newspapers and through this new agreement with Granada, they can now watch the highlights on 3."
Katrina Moran, Granada Interactive lined up for a synergistic snog: "We're excited to be working with 3 and delighted to see Celebrity Wrestling proving so popular on 3's video mobile network. We know Celebrity Wrestling fans won't want to miss any of the action, with 3 they can watch their favourite moments on the move and even get the backstage uncut action too."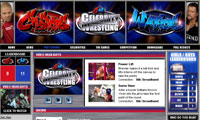 Lord knows who would want to fork out for this dreadful tack, but Granada will be supplying around sixty video clips to 3 customers over the course of the eight week series, with the clips charged at 50p each (or included within add-on packages).
Why anyone would want to fork out to view the cray-zeeee backstage antics of a load of stretching-the-definition-of-the-word 'celebrities' on a mobile screen sure beats us, but it provide ample proof of the old adage; 'where there's muck, there's brass'.