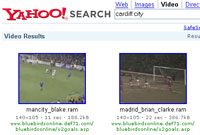 Yahoo has pulled a fast one on its rivals by unexpectedly taking it's five month long 'Beta' video search service to a full release, and adding some new media partners to provide searchable material.
The service enables Web users to find and view a wide variety of video content including news footage, movie trailers, TV clips and music videos.
The announcement comes just days after Google had proudly paraded new partners for its beta video search service, which lets users search closed captioning content and view still shots of video clips.
Google has also been seeking original material by inviting users to submit their own video to the service.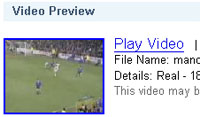 Finding video content on Yahoo's new search facility is easy enough: type in the relevant keywords and you'll be taken to a results page showing thumbnails of the video files. Clicking on the thumbnail takes you to the hosting page with an option to directly view the video.
Sources for Yahoo's new search feature have been expanded to include CBS News, Reuters, MTV, VH1.com, IFILM.com, Discovery Channel, Animal Planet, Travel Channel, as well as an assortment of independent producers and content pulled by spidering the Web for video content.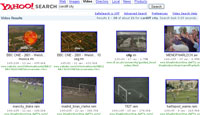 In the interests of research, we rummaged around for naughty porn, but couldn't find anything too racy – until we spotted the 'turn safe search off' option. Clicking on this released a veritable cascade of filth that would send Mary Whitehouse's graveyard residence spinning in turbo mode.
This latest development adds more fuel to the almighty bun fight currently being battled out between Yahoo, Google, Microsoft, Ask Jeeves and less well-known names like Blinkx, as companies compete to grab a juicy slice of the lucrative video search advertising business.
These companies clearly understand that in the future of a near infinite number of sources for content, the consumer is going to become very confused and possibly overwhelmed by choice, unless someone, or a service guides then through it. Having identified this, they're all chasing it.