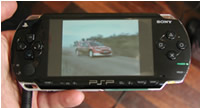 Big sighs of disappointment are heard all around Europe, as Sony officially announce the released date of the handheld gaming/media dream machine, the Sony PSP. It's going to be 1 September 2005.
The only cheers will be from the companies that are supplying imported PSPs from the US and Japan, where is has been available since the start of the year.
The PSP, or PlayStation Portable to give it its full title, not only plays games, but can show films (playing from its UMD disk) and play music using MP3 or Sony's proprietary ATRAC-3 format.
Many current users have been finding that by applying a little ingenuity and using the built-in WiFi support, they are able to use the machine as a Web browser and more.
I had my hands on one a little over a week ago and can attest that it is indeed a product of desire. Not only is the design of the device great, but it's solid feel only accentuates the flimsyness of the Nintendo DS. The screen performance is highly impressive, making the graphics look stunning. We think it will sweep all in front of it.
The DS has its own market of enthusiasts; the Nokia N-Gage QD has the benefit of being a mobile phone and Nokia behind it. Sadly the Gizmondo has none of these advantages and despite our best wishes, we can't see anything but hard times ahead for them.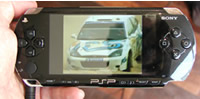 Sony have announced the PlayStation Portable Value Pack at €249 (£179/US$323), which includes headphones, a 32Mb Memory Stick Duo, power supply, protective pouch, etc. The hit film Spider-Man 2 will be available on a UMD disc, free to early purchasers of PSP when they register on YourPSP.com.
Sony have created a new disk format with the 60mm wide UMD discs which holds 1.8Gb of data. Initially, Sony were very secretive with it, not even disclosing the capacity of the disc. Following a major change of heart when they opened their music players up to MP3 format, Sony has now opened the format of the disc, letting anyone put their content on it, providing they aren't a rival games company. Many feel by not letting the public write their own data to these discs is a mistake – but perhaps following this line will boost the sales of the Memory Stick Duo.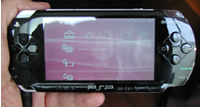 There are many tales of PSP-owners modifying their pride and joy to browser the Internet via Wi-Fi, or indeed run Instant Messaging client software.
It's unclear if this opening up to the PSP as a homebrew platform was intended by Sony. What is sure, is they're not doing anything to try to stop it. We're waiting for the release of the Skype client for the PSP – that would really put the cat among the pigeons.
With the almost unbearable delay for the PSP in Europe, London chuck-away free "newspaper", Metro, has been running a competition to win the PSP – Looks like those lucky winners have turned out to be more lucky than was originally thought.
Your PSP