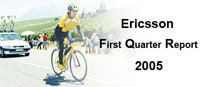 Ericsson has reported a thumping great rise in quarterly profits, helped by the deployment of 3G networks.
The Swedish telecommunications equipment giant reported better than expected first quarter profits of 6.7 billion kronor (£499 million), compared with 3.7 billion kronor last year.
Ericsson, the world's largest supplier of mobile phone networks, said that net income for the first quarter increased 73 percent to 4.64 billion kronor (US$661 million) from a year earlier.
Sales were up 12 percent at 31.5 billion kronor, buoyed by the roll out of 3G services in Western Europe and increased demand for WCDMA, a high-speed transmission technology, in Eastern Europe and Turkey.
The company also saw solid demand in emerging markets with a substantial rise in sales expected in China in the second quarter.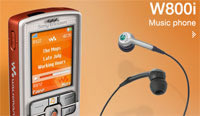 These figures fly in the face of predictions from investors and analysts that sales would drop steadily for the big telecoms firms as Chinese manufacturers took over the industry.
Robert Sellar, head of technology on the equities desk of Aberdeen Asset Management, commented that these predictions failed to take into account the amount of spending that these companies' customers needed to do to improve their existing networks to support 3G and other new technologies.
Ericsson's orgy of champagne popping was, however, slightly marred by the news of unexpectedly strong reports from arch rivals Nokia and Motorola.
Ericsson
Ericsson First Quarter report
Nokia's Quarterly Profit Increases By 18 Percent
Motorola Announces Record First-Quarter Sales and Earnings