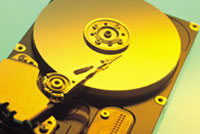 Samsung announces a prototype hard disk drive that includes flash memory, promising longer battery life and less hard disk woes for laptop users.
The Hybrid Hard Drive, the result of a partnership between Samsung and Microsoft, is designed for mobile PCs running the long awaited next version of the Microsoft OS, Longhorn.
Ivan Greenberg, director of strategic marketing at Samsung, claimed that the drive would reduce power consumption of 10% and help prevent problems that occur when the drive is moved while in use.
"The failing item in a returned notebook is typically the hard disk. If we keep that drive spun down, we believe that will have a huge impact," he added.
A prototype of the hybrid hard drive will be shown for the first time this week at the Windows Hardware Engineering Conference (WinHEC) in Seattle.
The hybrid hard drive will stuff a one-gigabit OneNAND flash chip inside a hard drive, which will serve as a write buffer and as a solid-state boot disk for the operating system.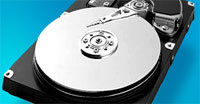 The hard disk would only spin up when the flash memory's "write buffer" was full, reducing the time and power needed to keep the drive's rotating media spinning.
Not unexpectedly, these snazzy hybrid drives will probably cost more than a regular hard disk, but Samsung believes that your extra dollars will be offset by "lower maintenance costs, 95 percent power savings when the disk is not spinning, faster boot time and substantially increased reliability."
Commercial versions of the drive are expected to emerge in late 2006 – the same time as Longhorn.