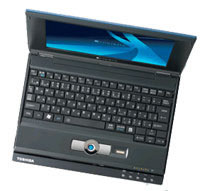 As part of Toshiba's 20th anniversary celebration of the first laptop computer, the company has brought back its libretto line of ultraportables, starting with the miniscule U100.
This cute little puppy weighs in a paltry 2.16 pounds, and includes one of smallest widescreen displays we've ever seen.
The libretto brand disappeared some three years ago, but Taro Hiyama, a vice president of marketing at Toshiba, explained that "customer demand", led to the company reviving the wee chappie.
"As today's professionals continue to be always on the go, the return of the mini-notebook will allow users to travel with a fully-featured compact design," he explained.
The libretto U100 is based around an Intel 855 chipset and Pentium M753 processor running at 1.2 GHz and comes with a clever suite of security features.
For maximum security, the pint-sized palmtop wedges in a biometric, integrated fingerprint reader with the 60 GB hard drive being protected by Toshiba's 'EasyGuard' technology.
This cunning bit of wizardry calls on a 3D accelerometer to halt the drive heads to prevent data in case of an accidental drop.
Powered by Windows XP Professional, the machine comes with a respectable 512 MB of 333 MHz RAM, of which the onboard Intel Extreme Graphics 2 chip gobbles up between 16-64 MB of memory (needless to say, the libretto isn't for hard core power gamers).
The titchy Toshiba features a 7.2″ WXGA display that somehow crams in a resolution of 1280 x 760 pixels. Users not gifted with eagle-like eyesight may find the installed screen zooming utility invaluable.
Despite its dwarf-threatening proportions, the libretto manages to squeeze in a slew of connectivity options, including 10/100 Ethernet, a 56K V.92 modem, IEEE1394 (FireWire), two USB 2.0 ports, SD card slot, Bluetooth 2.0 with EDR and Wi-Fi 802.11b/g (there's also an optional docking bay available offering a DVD read/writer)
Although some predicted that the growth of all-singing PDAs and, latterly, smart phones, would sound the death knell for ultraportables, Toshiba are gambling on there being a niche market for smaller, cheaper, Wi-Fi enabled laptops offering the convenience of laptops without the bulk.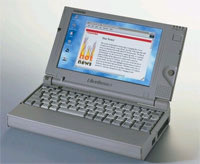 Measuring in at a humble 8.3 x 6.5 x 1.2 inches, the libretto U100 retails for US$1,999 (£1,045/€1,500) in the US, with a possibility of a European release this summer.
On a personal note, it's great to see the old brand coming back from the dead.
I bought a Libretto CT50 back in 1998 (see pic), and although the batteries lasted as long as pile of pork piles at a Billy Bunter convention, I loved the little fella.