Digital document software giants Adobe have announced that it will be buying up rivals Macromedia for about US$3.4 billion (£1.7bn/€2.6) in stock.
Adobe, best known for its market-leading document distribution Acrobat PDF software and Photoshop graphics suite, said the deal would help the company meet customer demands for wider-ranging applications, including audio and video capabilities.
The deal, announced early today, is expected to close in the fourth quarter of 2005, subject to shareholder approval.
Bruce Chizen will continue as Adobe's chief executive and Shantanu Narayen will remain president and chief operating officer. Macromedia chief executive Stephen Elop will join Adobe as president of worldwide field operations.
Here's the PR spin on the deal:
"The combination of Adobe and Macromedia strengthens our mission of helping people and organizations communicate better. Through the combination of our powerful development, authoring and collaboration tools – and the complementary functionality of PDF and Flash – we have the opportunity to drive an industry-defining technology platform that delivers compelling, rich content and applications across a wide range of devices and operating systems.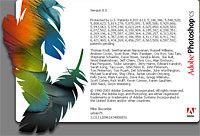 By combining the passion and creativity of two leading-edge companies, we will continue driving innovations that are changing the ways people everywhere are experiencing and interacting with information."
The combined company would have annual sales of just over US$2bn (£1.05bn/€1.5bn), based on the most recent fiscal and calendar year figures from both.
The two companies have been battling it out for the hearts of creatives for several years – Adobe's killer app Photoshop has long ruled the roost for designers, although Macromedia's innovative rival product Fireworks was constantly nipping at its ankles.
Macromedia is best known for its hugely-popular HTML authoring package, Dreamweaver, and its animation software 'Flash', which enables Web designers to deliver fast downloading, interactive multimedia content.
Adobe's late-to-the-party Flash riposte, 'Live Motion' never really got anyone excited, and its capable HTML authoring package, GoLive, failed to seriously trouble Dreamweaver's dominance.
There has been no announcement about the future of individual products, and bulletin boards on the Web are already speculating as to the future of competing products, such the high-end illustration packages, 'Freehand' and 'Illustrator' (Macromedia and Adobe, respectively).

Both products have large, loyal user bases and there may be some concern that – in the words of Sparks – "this town ain't big enough for the both of us".
There are also fears that with Adobe now free of any real competition in this lucrative sector, a damaging monopoly could emerge.