Apple Computer has announced that the latest major update of its Mac OS X operating system, code-named Tiger, will be available on 29 April.
Modestly described as "The World's Most Advanced Operating System," Apple's highly anticipated update to Mac OS X (now at version 10.4) will be available to mobs of grasping Mac huggers on Friday, 29 April.
With over 200 new features on offer, Apple aficionados should find the upgrade worth the price, with one of the most eagerly awaited new features being a sophisticated new search facility called 'Spotlight'.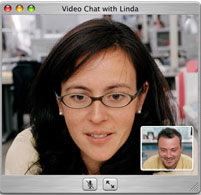 This powerful core application lets users search just about everything on their system – files, emails, contacts, images, movies, calendars and applications – with the results appearing "instantly".
Stealing a march on their Microsoft rivals, Spotlight can also rummage around inside the metadata of files and organise search results by criteria, such as the kind of content, author, edit history, format, size etc.
The new OS will also feature Dashboard, an accessory desktop application letting users display a variety of real-time information from the Internet, including stocks, weather forecasts, track flights and currency rates and other third party apps.
Apple's CEO Steve Jobs was clearly excited by the new OSX upgrade: "Tiger's groundbreaking new features, like Spotlight and Dashboard, will change the way people use their computers, and drive our competitors nuts, trying to copy them."
Other updates include an updated Safari browser offering built-in RSS support, improved connectivity with other desktop operating systems and support for the next-generation video-compression standard H.264 (allowing multiple users on the video-conferencing program iChat).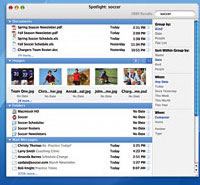 Mac OS X version 10.4 "Tiger" will be available on 29 April from 6:00 pm at Apple's retail stores and through Apple Authorised Resellers for a suggested retail price of £89 (US$129, €129)
Apple will also be offering a "family pack" version of the software, for £139 (US$199 €199), serving up to five computers in a single residence.