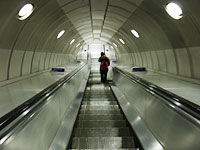 The London Underground is to show digital advertising on its escalators for the first time, as part of a trial being handled by Viacom Outdoor.
Viacom, the current holder of London Underground's outdoor advertising contract, will be trialing the display screens, (snappily entitled Digital Escalator Panels (D-EPs), on the side of the busiest escalators on the network at Tottenham Court Road station.
We spoke to the staff at London Underground and understand that tests will be carried out over the next five days. The screens will intially be mounted at the top of the escalator, but they are very concerned that the screen could initially attract too much attention from the public, causing a blockage at this very busy station.
The 66 video panels will blast out moving images and text, although LU has stated that they will not display TV or film advertising on safety grounds "for fear of distracting travellers". Seeing as some adverts are better than TV shows, we're not quite sure how they work that one out.
The screens also have the ability to link up, making the transfer of images from screen to screen possible. What is displayed and when will be controlled centrally at Viacom's North London office.
Advertisers will be offered the option of time-specific advertising (such as theatres using evening slots, or fast-food at lunchtimes) although there is no prospect of retina scanning being used to provide personally targeted advertising, a la Minority Report.
Viacom is flogging five- and 10-second slots and has already scooped up seven clients for the service.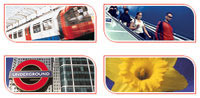 The trial is due to start within months, and if successful will be rolled out at other locations across the network.
Jon Lewen, Viacom Outdoor's digital account director, was on hand to provide the required buzzword-peppered statement: "We are committed to exploring new and innovative ways to capture and captivate London Underground users. DE-Ps will both enhance the consumer's experience of advertising on the Tube and offer revolutionary new creative opportunities for our clients to connect with this audience in a more creative and tactical fashion."
With London Underground's recent statement about introducing mobile phone coverage at tube stations, we wonder how long it will be before some bright spark suggests bombarding long-suffering tube passengers (sorry, 'customers') with interactive videoscreen/Bluetooth advertising.