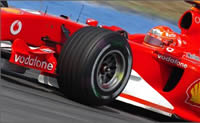 Vodafone Netherlands have added two further 'channels' to their current 20 plus channel UMTS (3G) service.
The first provides live access to the Eurosport channel where subscribers can listen to Dutch commentary. The version running on the Vodafone UMTS handsets is exactly the same as what is shown on TV, with a slight delay to allow for the encoding of the video.
Vodafone are a significant sponsor of sport around the world, covering F1 motor racing, a number of football teams, cricket, rally championships, Sking, even hurling and football in Ireland.
The second additional service is RTL Nieuws, RTL's news channel. Rather than take a live stream, the news is packaged in to a 20 minute show, comprised of items of between 30-seconds and 2 minutes. The on-demand service is refreshed six times a day.
This joins the news service NOS-journaal, the public service news channel that has been running on Vodafone Live! for some time.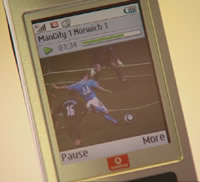 To date, Vodafone has EuroSport and RTL Nieuws exclusively and their addition brings the total number of TV channels available to 23, joining CNN, Playboy Channel, 2GOTV and MTV.
The charging for TV service over UMTS is worth spending a short while looking at. For data transfer 3G/UMTS services have been charged on a price per kilobit transferred basis.
Seeing the confusion this would cause with the consumer watching TV (how would they have the faintest idea how much they had spent watching a TV show), Vodafone took the decision to charge TV viewing by the minute.
In Holland, Vodafone customers pay 2.5 Eurocents for each minute they watch, so a 10 minutes session costs 25 Eurocents (US$0.32/£0.17). Time for another acronym? What You Watch Is What You Pay, WYWIWYP? No, we can't see it catching on either.
As yet there are no bundles available, but we would imaging this is just a matter of time and competition. As yet, there's no competition for this service. Vodafone were the first provider in Holland to launch UMTS with their Connect Card in Feb 2004 and followed this up with the first launch of the consumer service.
TV over UMTS works on all eight of the 3G handsets available on Vodafone Netherlands.