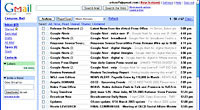 A year after its launch, Google has doubled the capacity of its Gmail service and added new features.
Those lucky souls invited to have an account now get a whopping great 2GB of storage, with the ability to send up to 10MB of attachments in a single message with free POP access – with Google promising further increases in the pipeline.
"Since we introduced Gmail, people have had a lot of places to store e-mail, but some of our heavier users have been approaching their limits, and have been wondering what is going to happen," says Georges Harik, Gmail's product management director. "So, starting today, we are going to give people more and more space continuously and indefinitely."
"Our plan is to continue growing your storage beyond 2GB by giving more space as we are able to do so. We know that email will only become more important in people's lives, and we want Gmail to keep up with our users and their needs."
The move comes hot on the heels of last week's decision by Yahoo to increase the size of its free account to 1GB. Both Yahoo and Hotmail can offer up to 2GB of storage as well, but users must fork out for the privilege.
The company has announced no immediate plans to increase Gmail's 10MB limit on attachment sizes, and there's no prospect of subscribers being able to turn their in-box storage into a full-featured virtual external hard disk.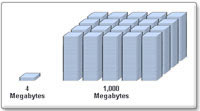 Google is, however, aware that some crafty Gmail subscribers are using the service for this purpose, mailing files to themselves as a way of storing them online.
Google seems cool about it too, with Harik saying, "We want our users to understand that we have a plan and that we are anticipating their needs, and that nothing strange is going to happen with Gmail down the line."
Google is also testing phishing protection on the accounts, serving up a warning when it detects a dodgy looking email.
Gmail's arrival on the scene a year ago sent up a rocket up the backsides of the Web mail market, whose main players had been providing minimal inbox storage for their free services.
At the time, Yahoo only offered a paltry 4MB of in-box with Microsoft providing even less at 2MB.
Since then, most major Web mail providers have reacted to Gmail's generous inbox quotas with Microsoft and Yahoo both now offering 250MB for their free services. Yahoo plans to begin offering 1GB starting in late April.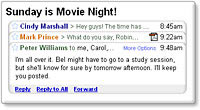 Curiously, Gmail is still technically in a beta phase, and is not generally available – the only way users can obtain a Gmail account is by invitation from an existing user (each current user has 50 invitations to give).
Google also randomly offers Gmail accounts via its main Google.com Web page.
Google have yet to clarify whether Gmail accounts would ever be totally open, with Harik cryptically commenting, "We keep looking for ways to make it more broadly available to people who want to use it".
While Gmail is totally free to use, it's financed by text ads that are served up to users with each message they open. The fact that the ads are based on each message's text caused an outcry, but Google insist that text scanning is automated and without nosey human intervention.