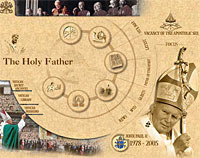 News of the Pope's death was broadcast to the media from the Vatican using text messages and email enabling the 2,000-year-old Church to meet the increasing demands of real-time news.
Just a quarter of an hour after the Pope was pronounced dead on Saturday at 8:37pm (GMT), officials at the Vatican got out their texting fingers and sent journalists an SMS message alerting them to a pending statement.
With most of the world's media hungry for news, an email communiqué was beamed to a sea of state-of-the-art handheld computers a minute later, purchased by journalists at the suggestion of the Vatican.
The email contained a simple, short Word document saying: "The Holy father died this evening at 21:37 in his private apartment."
The technology ensured that TV viewers across the globe learned of the Pope's death before the faithful thousands gathered in prayer below the Pope's window in St. Peter's Square.

Minutes later, Archbishop Leonardo Sandri informed the crowds, who greeted the news with a long round of applause – an Italian tradition – with the spectacle being captured on television in real time.
The Vatican's embracing of the mass media is a relatively new phenomenon – as recently as the 1960s news of Pope John XXIII's inoperable stomach cancer was kept secret until just a few days before his death in June 1963.
Pope John Paul proved to be far more open to the media, writing in February that the Church should not be shy of using the media, including the Internet, to spread its message, saying the "mass media can and must promote justice and solidarity".
With real time news networks and Internet bulletins documenting every minute of the Pope's demise, he certainly got his wish.