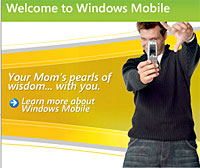 Microsoft has launched MSN Video Downloads, a spanking new mobile service that will provide daily television programming for downloading to Windows Mobile devices, such as Portable Media Centers, Smartphones and Pocket PCs.
MSN Video Downloads will shunt out a wide range of daily content including, sports highlights, news headlines, children's programming, music videos, independent films and comedy shows.
The video content will be produced by companies such as MSNBC.com, FOX Sports Food Network, and IFILM Corp.
Users will be able to download the digital videos daily to a Windows Media Player 10 library, ready to be synchronised with their portable device.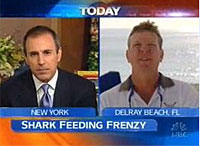 The video content is compliant with 'PlaysForSure' video devices, and is optimised for Portable Media Centers and compatible with Smartphones and Pocket PCs that support Windows Media Player 10 Mobile.
A one-year premium "all you can eat" membership to the service costs $19.95, while freeloaders can access a limited amount of free content without a paid membership.
The service lets subscribers select the specific content they want downloaded daily to their XP-based PC each day. A new automatic deleting feature lets users specify how long they want MSN Video downloads to remain on their PC, thus avoiding a large backlog of clips.
"The launch of Portable Media Centers in 2004 began a new era of portable entertainment, and today's announcement solidifies the continued momentum we've seen for portable video," purred John Pollard, director of Windows Mobile Applications and Services Marketing at Microsoft.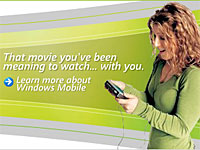 "With content from some of the most recognized brands in entertainment, MSN Video Downloads helps bring this vision to life, allowing people to take their favourite television shows with them whether they are on the train, waiting for a doctor's appointment, or keeping the kids occupied in the back seat of the car."
Josh Martin, associate research analyst at IDC, was on hand to tell us that "Readily available digital video content remains a key driver for the portable multimedia player market," adding that "the proliferation and growth of video service providers will serve to fill the existing video content void and increase adoption of portable multimedia players such as Windows Mobile-based devices."
In other words, people want easy-to-find and easy-to-download quality video content to slap on their mobile devices and Microsoft hope to grab a large chunk of the action with this service.
WatchMusicHere.com announces music video deal.
Another company, CinemaNow has also started offering mobile video downloads with its newly launched service, WatchMusicHere.com
The company will offer music videos from multiple genres ranging from classics to the latest chart-topping videos, priced from US$1.99 (£1.06, €1.55) to US$2.99 (£1.60, €2.33) for a permanent copy (viewable for an unlimited number of times on the selected playback device).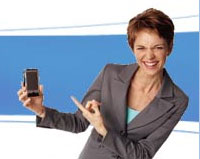 All music videos on the site will be made available in multiple formats for playing on traditional PCs, laptops and Microsoft's Windows Mobile-based secure devices including the Portable Media Centers, Pocket PCs and select Smartphones.
Users will be able to download the appropriate format and then transfer the video file to the secure device using Windows Media Player 10.
The company says that this announcement marks a major shift for record labels as they are now offering, for the first time, both classic and new music videos for purchase on-demand.
The site will launch with 75 music videos with over 1,500 additional titles expected to be available by December, 2005.