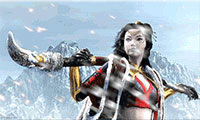 In a shocking example of virtual life crashing into real life, a Shanghai online game player stabbed his gaming pal in the chest multiple times after he learned that he had stolen approximately US$870 (£462/€671) from the sale of a powerful "dragon sabre", jointly owned by both players.
The "dragon sabre" sword didn't actually exist in real life – it was an artifact used in the popular online fantasy game, "Legend of Mir 3", featuring heroes and villains, sorcerers and warriors, many of whom wield enormous swords.
Qiu Chengwei, 41, stabbed competitor Zhu Caoyuan repeatedly in the chest after learning that he had sold his "dragon sabre."
Chengwei and a friend jointly won their weapon last February, and lent it to Zhu who then sold it for 7,200 yuan (£464/US$872/€673), according to the China Daily.
Qui went to the police to report the "theft" but we can only assume the desk sergeant couldn't get his head around the notion of something that doesn't exist being stolen. If you get our drift.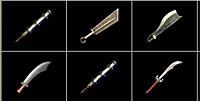 Still fuming, Chengwei popped around to have a word with Caoyuan who didn't convince with his promises to pay him for the sword.
Eventually, Chengwei lost patience and let rip with a real-life knife that was most definitely sharp and very pointy, killing Caoyuan with stab wounds to the chest.
Chengwei gave himself up to police and has already pleaded guilty to intentional injury.
No verdict has yet been announced.
This tragic incident highlights the problems online gamers are having protecting their online property, with some experts suggesting that cyber armour and swords in games should be deemed as private property as they cost players both money and time.
But some legal experts aren't impressed: "The 'assets' of one player could mean nothing to others as they are by nature just data created by game providers," a lawyer for a Shanghai-based Internet game company was quoted as saying.

However, online game companies in Shanghai – the city with the most players – are planning to set up a dispute system where aggrieved players can find recourse.
Shang Jiangang, a lawyer with the newly established Shanghai Online Game Association, commented that "the association has drafted some measures to facilitate the settlement of disputes over virtual assets", adding, "once any cyberweapon stealing occurs, players can report to the operator, which will then sort it out according to the circumstances."