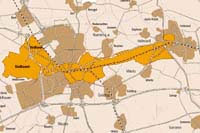 Last week, deputy Director-General Mr Broesterhuizen of the Dutch ministry of Economic Affairs officially opened the Netherland's largest Fiber-to-the-Home (FttH) network in Nuenen, a village in the south of The Netherlands.
The Dutch haven't messed about here: the entire village is covering 7,500 households, shops, offices, schools, elderly homes, sports clubs, churches, hotels and health institutes.
This provides over 15,000 people with access to super high-speed internet access (up to 100 Mbps full duplex), with several other services (telephony, TV, and unique local services) following soon.
The Nuenen network (try saying that after a few drinks) is part of the Kenniswijk Project, an Dutch government initiative to encourage public and private organisations to start experimenting with and deploying FttH infrastructure and broadband services.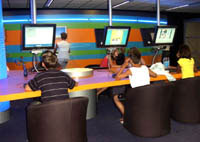 By summer 2005, approximately 16,000 FttH connections will be up and running in the Kenniswijk area, with over "100 innovative services" being developed, of which 50 are already available.
With the Dutch Government having no direct investment in the infrastructure, FttH in the Netherlands is a fully market-driven process.
Previously, companies weren't too keen to invest their wedge in such untested, large scale ventures, but a new business model was used in Nuenen which made it possible to get this huge project up and running within just 6 months.
The business model works by individual households joining a cooperative society – "Ons Net" (Our Network) – which pays for and owns the network.
This ensures a high degree of user commitment and an extremely high degree of active users (a whopping great 97% in Nuenen).
These impressive figures have shown housing corporations, banks and the money men that it is a relatively safe and worthwhile investment, thus easing potential financial bottlenecks in the large-scale deployment of FttH elsewhere.

The success of the scheme has created a blueprint for FttH projects in the rest of the Netherlands, with lots of other countries expressing a keen interest in the 'Ons Net solution'.
Ons Net has also led to the development of innovative local broadband services, ranging from video consultations by family doctors to church services and sports broadcasts, offering interesting examples of how the internet can benefit communities.