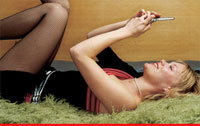 As of early May, Dutch Vodafone customers will be able to say 'nr!' to saucy adult content offered via Vodafone live! from their mobile phone.
A new 'Vodafone Access Control' service created in partnership with De Kijkwijzer allows sleaze-allergic customers to customise their mobile needs by allowing them to block adult content.
But who the chuffin' Nora is De Kijkwijzer, do we hear you ask?
A quick rattle of the keys at babelfish tells us that De Kijkwijzer means "Look indicator" and their Web site reveals that it is a "classification system to advise and warn parents and educators about the possibly harmful influences that children may experience from a programme or film."
This classification is carried out by suppliers of audiovisual productions for the Dutch market, including both public service broadcasters and commercial broadcasting organisations.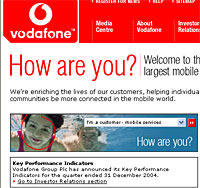 With hand-rubbing porn-shifters keenly eying up a growing – and lucrative – mobile multimedia market, it makes sense for telcos to be able to reassure parents that young Timmy's new handset isn't going to become a mobile gateway into the portals of smut.
With this in mind, Vodafone will only be offering sexually explicit content to its 'postpaid' customers, a service only provided for over 16s.
Using 'Vodafone Access Control', customers wanting to avoid titillation will have the ability to block access to the saucy stuff by simply calling Vodafone Customer Services.
The service will only be offered in Holland, but we expect other telcos to follow suit.