Memory card kings Lexar Media have teamed up with videogame big boys, Ubisoft, in a cunning piece of cross-market publicity.
From 4th April to 15th June, 2005, purchasers of select 1GB and 2GB Lexar JumpDrive USB flash drives will find themselves the lucky owners of a pre-loaded single game level of Tom Clancy's Splinter Cell Chaos Theory for the PC, along with other specially created PC game content.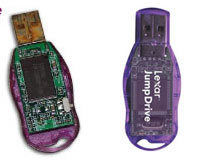 Described as a "major value-add promotion" it looks more like the unexciting equivalent of a magazine freebie cover disk to us, but Theresa Boldrini, Lexar Director of Retail Marketing, can't hold back her excitement:
"This promotion with Ubisoft represents a breakthrough in the convergence of USB flash drive technology tied to a highly anticipated new game title," she enthused.
"By partnering with one of the world's largest and most respected videogame publishers, we're able to provide consumers with unique, value-add content while conveying alternative uses for our JumpDrive products. It's also an ideal way for Lexar to stand out among other USB flash drive manufacturers as we continue our drive to build retail presence in the software specialty and gaming channels."
Tom Clancy's Splinter Cell Chaos Theory is Ubisoft's third installment of the popular Splinter Cell franchise and the Lexar promotion will be accompanied by all the usual big bits of in-store cardboard, as well as what's described as a "colourful promotional burst" on the JumpDrive packaging.
As well as the single game level for PC, purchasers of select Lexar 1GB and 2GB JumpDrive products can expect to find pre-installed branded gaming wallpapers for the PC, a game screensaver and a "Strategy Guide" provided by Prima.

And if all that wasn't enough, a special Lexar promotion will offer consumers a free Tom Clancy's Splinter Cell Chaos Theory t-shirt with the purchase of another Lexar product (be still my bearing heart!).
Although we're a little under-whelmed by this offering (there's nothing particularly new about memory cards coming with pre-installed software), it may get interesting if other devices take up the theme.
Manufacturers stuffing their hard disk based DVD recorders full of Hollywood blockbusters may get an edge over the rivals, in much the same way as PC retailers crank up the bundled software.
And with hard disk based mobile phones edging ever closer to the mainstream, the devices of the future could come preloaded with a bonanza of freebies, extras, demos and adverts and other such promotional guff.
Doesn't that sound, err, great?