TiVo has signed a multiyear deal to make a version of its personal video recorder software available to customers of Comcast Cable, currently the King Kong of largest cable operators in the US.
The deal is the first of the partnerships the struggling pioneer hopes to forge with cable operators and will result in Comcast and TiVo working together in peace and harmony to develop a version of the TiVo service to be made available on Comcast's current DVR platform.
The new service will be marketed with the TiVo brand, and is expected to be slipping out on Comcast's DVR products in a majority of Comcast markets in mid-to-late 2006.
This long-term, non-exclusive partnership will provide Comcast customers with the opportunity to choose the TiVo service with features like Season Pass and WishList, available as an additional option.
If all goes to plan, the service will showcase TiVo's home networking, multimedia, and broadband capabilities.
"We are focused on providing our customers with a 21st Century television experience," said Brian Roberts, the chairman and CEO of Comcast Corporation. "TiVo has revolutionized the way consumers watch and access home entertainment. By partnering with TiVo, we are continuing to deliver technology that enables our customers to watch what they want when they want on TV. This agreement also reflects our commitment to work with leading technology providers to offer customers more value and choice in their home entertainment experience. Customers love the ease and convenience of our current DVR service, and we look forward to working with TiVo to enhance that service and offer customers the best-in-class DVR experience."
Steve Burke, the president of Comcast Cable and COO of Comcast, added, "The strong TiVo brand, the clear track record of customer loyalty it has and its cutting-edge features make this a terrific partnership and exciting new product for Comcast."
Tom Rogers, the vice chairman of TiVo, noted, "It is very important that TiVo has found a way to work with the nation's largest cable operator on a cooperative basis to develop a state-of-the-art TiVo service, fully integrated with a cable set-top box, that will make TiVo available to millions of cable viewers. … This is a real milestone for TiVo and for the cable industry, but most importantly it is a milestone for television viewers."
Analysts are hailing the agreement as a lifeline for the Californian-based company, whose shares jumped 75 percent, or US$2.87 (e2.14/£1.50), to close at US$6.70 (e5/£3.50) in Tuesday trading on the Nasdaq Stock Market.
Although TiVo currently boasts more than 3 million subscribers it has struggled to find a business strategy that would increase its subscriber base and withstand gnawing competition from generic DVRs offered directly by big cable companies.
In the quarter that ended Jan. 31, TiVo lost a thumping great $33.7 million, substantially heftier than the $12.4 million loss in the same period a year earlier.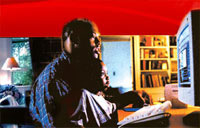 The Comcast deal means that TiVo will have to adapt its software to work on Comcast's existing DVR platform. This will enable TiVo to blast out the advertising it sells as interactive video clips in their onscreen menu to Comcast subscribers.
Comcast will continue to market its own DVR, with new customers getting a dual-tuner DVR, letting viewers record two shows at once and high-definition television; TiVo offers such features only to DirecTV satellite customers.
Comcast subscribers who plump for the TiVo service will get funky features such as "Suggestions," which recommends shows based on past viewing habits, and the ability to schedule recordings over the Internet.
The agreement gives TiVo access to Comcast's 21.5 million cable customers, including 8.6 million digital cable customers who can take advantage of DVRs