Crown Castle International announced today that it has formed a new subsidiary, Crown Castle Mobile Media, tasked with delivering live mobile television services to handheld devices including cell phones.
Crown Castle Mobile Media intends to build and operate a dedicated digital network for broadcasting digital television content to PDAs, cell phones and other suitable devices.
The technology being used, Digital Video Broadcasting- Handheld (DVB-H), is currently expected to become the global standard for mobile television and has been formally adopted by both the DVB Organization and the European Telecommunications Standards Institute (ETSI).
Crown Castle and Nokia recently completed successful demonstration trials of this open-standard technology in Pittsburgh, Pennsylvania, with Crown Castle Mobile Media expecting to roll out a commercial deployment of this service in selected major US markets during 2005.
"Crown Castle owns over 10,000 wireless towers and holds a nationwide spectrum license," commented John P. Kelly, President and Chief Executive Officer of Crown Castle. "These valuable assets, combined with our proven expertise in digital broadcasting in the UK, provide a unique opportunity to take a leading position in the emerging mobile television market. We look forward to partnering with content providers and wireless services providers to introduce commercial services."
Richard Sharp, vice president of Nokia's Rich Media business unit added, "Nokia and Crown Castle broadcast mobile television for the first time in the US during live market trials that began in Pittsburgh last October and are working together to bring mobile television and radio to the hands of wireless users across the United States.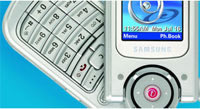 Crown Castle's support of DVB-H is further evidence that DVB-H is a robust, open standard that will not only bring high- quality television and radio to the market, but will ensure a vibrant marketplace for infrastructure equipment, innovative devices, and compelling services."
Earlier this week, Crown Castle Mobile Media also announced that it will work together with Samsung Electronics to accelerate the provision of digital television services to handset devices in the US market.
Samsung will be the world's first wireless phone manufacturer to launch DVB-H handsets supporting both WCDMA/EVDO and GSM/GPRS networks, providing entertainment-hungry consumers with quality, built-in television screens receiving real DVB-H streaming television and Radio channels.
Crown Castle Mobile Media enjoys an unencumbered nationwide US spectrum license and anticipates building a DVB-H network across the US to transmit high-quality, multi-channel live and streaming digital television for reception on suitably-equipped cell phones.
Samsung is developing premium handsets to work on the Crown Castle Mobile Media network, and have already showcased wireless phones with 2″ QVGA screens supporting 226k colors, up to 30 frames per second, and 300 kbit/s per channel speeds.
The phones have MPE-FEC error correction implemented and use the latest H.264 and AAC+ video/audio decoding technologies.
"Samsung is recognized as a global leader bringing to market multimedia technologies that enhance the way consumers are able to use and interact with their wireless phones," said Dale Sohn, VP of Samsung's Overseas Investment Group.
"We understand the value of working with companies like Crown Castle Mobile Media to develop cutting-edge solutions like DVB-H."
Mr. Michael Schueppert, President of Crown Castle Mobile Media, was suitably chuffed, "We are very excited to have a world-class leader in multimedia mobile phones like Samsung to assist in driving these new services. This collaboration will put Samsung in a position to become a key handset supplier to Crown Castle Mobile Media's anticipated Pittsburgh DVB-H customer trial."