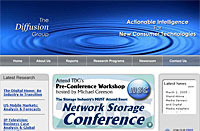 Evidence is beginning to amass that two of the most hyped products in the early digital home market will be lucky if they manage to reach niche market status in the next few years.
Not so long ago, people were getting very excited by media servers and digital media adapters. They were the future. And then, err, people kinda forgot about them.
So what happened?
According to new research from The Diffusion Group, it seems that despite the products being well-hyped, widely discussed and blessed with encouraging early forecasts from a number of research firms, the devices have suffered from extremely limited demand.
Moreover, the report concludes that demand for both these technologies will remain limited and that what unique functionality these solutions do offer will be quickly integrated into other platforms.
"It is not that this type of functionality is undesirable," said Michael Greeson, President of The Diffusion Group. "The premise of networking stored digital media content to multiple devices in the home is valid, but consumers aren't looking for separate devices to enable this experience.
Instead, the applications and benefits enabled by these two platforms will be increasingly integrated into devices with which consumers are more familiar – such as DVD players that are now evolving into DVD-recorders or set-top boxes with built-in hard-drives and integrated networking."
"While media servers were originally positioned to be the hub of the digital home, demand for these solutions has never gotten off the ground."
Although Windows Media Center PCs have proved more popular, Greeson asserts that this is simply down to normal PC replacement cycles rather than consumers finding anything particularly compelling about the concept.
Other media server platforms have been much less successful, although the push of high-end digital set-top boxes by cable and satellite video service providers offers a case for optimism.
"However," says Greeson, "this is a push model, where the equipment is subsidised by the service provider in order to generate digital media service revenue, as opposed to a 'pull' model where consumers are so enamoured with the device that they run to the retail store to purchase one."
When it comes to digital media adapters or DMAs, the Diffusion Group paints a gloomy picture.
Introduced a couple of years ago, the idea was to make it easy to share content from the PC to other media devices in the home, such as a TV or stereo using a DMA. But their techie-tastic appeal failed to win over punters.
"Not long ago, there were ten to fifteen companies offering DMAs," said Gary Sasaki, a contributing analyst with The Diffusion Group and President of DIGDIA, a media consultancy.
"At this year's CES, DMAs were hard to find. Part of the reason for the premature demise of DMAs is that their functionality appeals mostly to early-adopter or technology-savvy buyers. Additionally, and somewhat similar to media servers, the functionality of DMAs is slowly getting integrated into other more familiar product categories."
The report suggests that we've got an industry in fast transition, with early, stand-alone technologies being picked clean for their useful ideas and then incorporated into more consumer-friendly converged products.