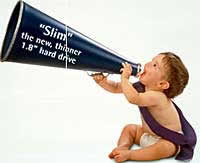 Hitachi has announced that it will ramp up its output of consumer hard drives this year as it strives to take advantage of the soaring storage demands of MP3, PVR and mobile phone markets.
The move, in response to faltering enterprise demand, will see Hitachi target three key consumer segments – MP3/personal media players, digital video recorders and mobile phones.
As part of its strategy for the consumer market in 2005, Hitachi will open five Hitachi Design Studios worldwide, each one specialising in helping partners to integrate hard drives into consumer electronic devices.
The new centres – called the Hitachi Design Studios – will be scattered all over the globe (Fujisawa, Japan; Havant, UK; Rochester, Minnesota; Shenzhen, China and Taipei, Taiwan) and will open for business in April.
Hitachi intends to thrash their workers to an inch of their lives and get them to treble their output of 1.8-inch drives (used in Dell DJ music players), and double the production of 1-inch drives, as used in Apple's iPod mini.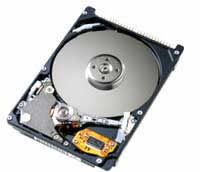 A smaller version of the current 1-inch drive, code-named Mikey, comes out later this year, with capacious 2.5-inch drives – holding up to 500GB – being targeted at makers of DVRs and home servers.
Hitachi, the world's second-largest maker of hard disk drives after Seagate, shipped 1.3 million 1.8-inch drives and 3.9 million 1-inch drives in 2004, although posted an operating loss of 4.4 billion yen (US$42.08m/€32.06m/£22.02m) in calendar 2004, after being battered by sharp price declines.
"Hitachi`s strength in hard drives provides a strong basis from which to accelerate our CE [consumer electronics] business in 2005," said Bill Healy, senior vice president, product strategy and marketing, Hitachi Global Storage Technologies.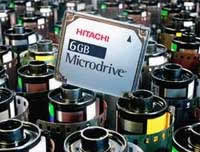 "Hitachi's intensified focus in the CE segment hard drive will mean good news for end-users as we work on developing smaller, high-capacity hard drives that are more rugged, require less power and cost less."
Hitachi's promise of churning out smaller, cheaper, more capacious hard drives may impact on a whole host of consumer electronic devices, with its high capacity drives offering bags more storage space for video/DVD convergence units.