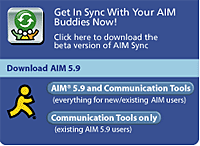 America Online has announced plans to enable users of its instant messaging service (AIM) to see when friends and business associates are online, even if they're not on the contact list.
From today, AIM customers can download a free beta plug-in (called AIM Sync by Intellisync) that will let users of Microsoft Outlook see which of their contacts are online and available to chat by IM.
The program works by scanning a user's Outlook address book to find friends, colleagues and clients who are AIM users and then offering to add those names to their AIM buddy list.
Inside the Outlook program, the plug-in detects the presence of online AIM contacts, with AOL's signature running-man icon showing up next to the address fields on e-mail messages and contact lists.
If someone's available, a single click from within Outlook will launch an AIM session.
The AOL-Intellisync partnership reflects a push by AOL to bring instant messaging to places where users are already (virtually) hanging out, rather than forcing them to communicate directly from AIM's software.
In January, ComScore Media Metrix says, AIM had 20 million users (nearly 40 million if AOL members are included). Rivals Yahoo Messenger had 19.6 million, and MSN Messenger, 14.9 million.
"This is just the beginning of a broader strategic approach with AIM – making sure our application is available where you are," says Chamath Palihapitiya, the America Online executive who handles the IM service.
"The web is open … It's not siloing yourself," she continued, "AIM is everywhere consumers are. We want to take it to where they are."
This marks something of a turnaround from the company's "no freebies" glory days when AOL's dial-up service reigned supreme and its inflated public equity enabled it to buy up the world's largest media company, Time Warner.
But with millions of users fleeing to cheaper rivals offering faster cable/telephone connections – and the looming presence of IM-enabled VoIP services like Skype – AOL is hoping to provide its once-proprietary programming and services to free Web sites, including its own AOL.com.
The strategy appears to be aimed at replacing dwindling subscription revenue with online advertising revenue, a sector of the media economy that is expected to rise by more than 20 percent this year.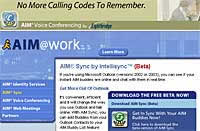 AOL has also announced a relationship with CareerBuilder.com to bring together recruiters and online job applicants. A prospective employer, who spots a job seeker's résumé with an AIM address, can instantly send a message to that person in real time.
It's also getting down with the youth by teaming up with the college-oriented Ruckus Network so students can chat via AIM about music, movies and other digital entertainment. Along with text, users might use AIM to swap musical play lists and video.
And they haven't forgotten about the corporate world, with AOL announcing a partnership with Thomson Financial to let traders and brokers chat with clients or each other via AIM.
America Online
instant messaging service
AIM Sync by Intellisync