Siemens have yet to release this in most of the world. If you're interested in the combo, drop us a quick note to
Siemens.Skype(at)Digital-Lifestyles.info. We'd be happy to pass them on to Siemens, with the vague possibility that it might hasten their introduction in your country.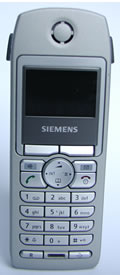 We all know that Skype is great. There's a real thrill in speaking to people all over the world and knowing its not costing you anything at all.
The downside has been that you have to be around your computer when you're speaking.
No more. The Siemens Gigaset M34 USB adaptor and one of a range of their handsets give you the freedom to walk around while chatting.
We're testing the M34 with the Siemens Gigaset S440 wireless DECT handset that we first heard about back in November last year.
Here's a sneak preview – we're really impressed (may be even gushing) and think it marks a significant shift for the widespread acceptance of Skype.
First impressions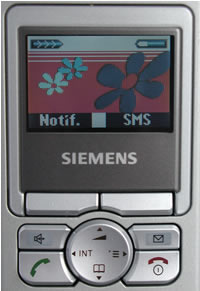 The Gigaset S440 is a handset fashioned more like a mobile phone. With a backlight colour screen and icons, it's about the swankiest DECT handset we've seen. At 14cm (5.5-inches) tall, it sits comfortably in the hand.
The S440 is available as a 'normal' landline phone. It's when it's combined with the M34 USB add-on, that it starts to become extra special.
The M34 has a slightly rounded and swoopy look to it. It's total length is about 10cm (4-inches), under 3.5cm (1.25-inch) at it's widest point and a little over 1cm (0.5-inch) thick. There's a thin strip of illumination at its end.
Handset performance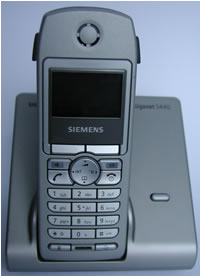 As mentioned, the Gigaset S440 is also a 'normal' phone and it retains this skill, giving you the ability to make both Skype and landline calls depending on your needs. Landline calls involve dialling as you would normally, and Skype takes a few steps more, which are detailed below.
Not only does the S440 handset look pretty sleek, but it's performance matches its looks. We were hugely impressed with the wireless range. The Digital Lifestyles offices are on the second floor and were able to walk down into the cellar of our building and walk down the road and around the corner and still speak via Skype or landline. It's worth bearing in mind that we're in the centre of London too, and the airwaves are pretty congested.
It's a strange feeling standing in the local sandwich shop queue and receiving a Skype call. It also feels a little naughty.
Process of making a Skype call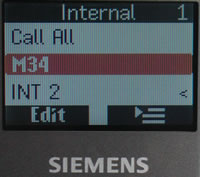 Enough of this background. How easy is it to use with Skype, I hear you call. Pretty simple.
The summary is – once you've got it configured (more later), you press a few buttons, make a menu selection or two, and then you're chatting.
Here's the detail. At the centre of the handset is a four-way selector. You use this, to select INT, which brings up a list of other handsets and services that you can connect to. By selecting the M34 USB adaptor, you're offered a menu of applications that you can run through the M34 (we'll detail the others below).
Simply selecting Skype, brings up the your Skype buddy list on the handset. How cool is that?
To speak to any of them, simply highlight the name, press the Green dial button and you're speaking on a normal phone handset – via Skype!
Using the handset daily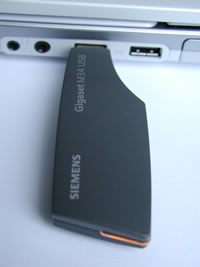 We found it becomes completely natural to use the S440/M34 combo. You really notice how restricted you are when you've got to call without it.
When the pure thrill of Skyping on a handset wears off, we found ourselves wishing that switching between using the M34 for landline calls and Skype was a little quicker – just because we're impatient. Don't forget, this is an initial release and the handset wasn't designed from the outset to make Skype calls. We'd imagine later generations will have a single key to take you to the list of your Skype buddies.
If you need to make calls to International landlines, you're in luck, as SkypeOut is catered for too. When the handset is in Skype mode, simply dial the full international number and you'll connect. Just like dialling from a mobile phone – but at Skype's reduced prices.
So what happens when your yabbering away on a Skype call and you receive a legacy (landline) call? The S440 bleeps in your ear and you're offered the option to disconnect from Skype. You can then take the call as normal.
Receiving a Skype call is as simple accepting a connection.
If you're using the phone all day, and believe us when the calls are totally free, you'll be chatting on it a lot. The battery lasts about a day, so you'll need to recharge overnight.
Setting it up with Skype

The set-up needs to be done in the right order, but if you follow the instructions it will work without a problem.
Assuming you already have Skype running on your PC, install the M34 driver disk and plug the M34 in to an available USB port. After running the Gigaset M34 software and syncing the S440 base station with the M34, you're away – with your Skype buddies appearing on your handset.
Beyond setting it up to run with Skype, the application that comes with the M34 lets you program the dialling memories of the handset, but from the comfort of your own PC keyboard. It can also integrate with MS Outlook.
It does more than Skype
And you thought Skyping was enough?
We imagine you're pretty impressed with the ability to Skype on this handset, but there's a world of extra features available too.
Here's a brief run down.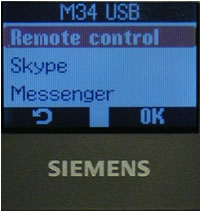 Instant Messenger via Skype, AOL or MSN. We tried this, but didn't make a habit of it. It's okay for very brief messages, but the restriction of the keyboard makes you itch to get back on the QWERTY.
Remotely trigger applications on your PC from the DECT handset. We couldn't actually think of any practical uses for this, but you might get excited about the idea triggering a CD compilation while you're sitting in the garden.
SMS from your landline. This has been done by a couple of other handsets, and more likely to be used by people who don't already own a mobile phone.
Conclusion
You should be able to tell, we're impressed with the Gigaset M34/S440 DECT handset combo.
In our eyes it's a Product Of Significance, as we had thought when we first heard about it.
It takes Skype out of the hands of the technically aware, directly into the hands of every consumer. There can be no-one in the developed world who doesn't know how to use a phone handset. If you can do that, you can now use Skype.
No longer do you need to be tied to a computer to use Skype. You can wander free, while smiling to yourself that you're not spending a penny, to speak to someone on the other side of the world.
We're aware there are other Skype handsets around, but from what we've seen, none of them are as integrated as this Siemens solution.
Sure, to get this product to perfection it could do with single key to get you to your Skype buddy list, and the battery could last a little longer, but this is the first release.
While the M34 & S440 aren't quite perfect … we'd recommend them to anyone.