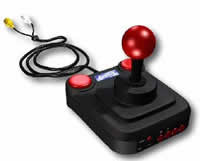 The most successful gaming computer of the 80s is back – this time in a teensy weensy new 'Direct to TV' (D2TV™) unit.
In a move sure to get thirty-something gamers blubbering with nostalgic tears of their lost youth, the new C64 D2TV™ box recreates thirty of the most well known games from the Commodore 64 home computer range, including games from legendary developers Epyx, the Bitmap Brothers and Hewson.
The chunky two-tone beige Commodore box of the 80s has been replaced by a small joystick-toting, handheld unit, which happily spares users the 'go out for a bite' long loading times of the original computer.
The C64 DTV™ was created by DC Studios in conjunction with Ironstone Partners and Mammoth Toys and has already proved a big hit in the US, with over 250,000 units being sold since Thanksgiving 2004. Such was the enthusiasm for the product that 40,000 boxes were shifted on the launch day alone.
Now Europe is to finally get its own custom version, specifically designed for European territories.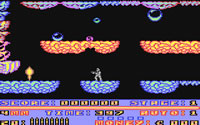 The DTV contains the classic games: Alleykat, California Games, Championship Wrestling, Cyberdyne Warrior, Cybernoid, Cybernoid II, Eliminator, Exolon, Firelord, Gateway to Apshai, Head the Ball, Impossible Mission, Impossible Mission 2, Jumpman Junior, Marauder, Maze Mania, Mission Impossibubble, Nebulus, Netherworld, Paradroid, Pitstop, Pitstop 2, Ranarama, Speedball, Summer Games, Super Cycle, Sword of Fargoal, Uridium, Winter Games and Zynaps.
Unfortunately, two of the finest Commodore games ever created are notable by their absence: the horribly compulsive Elite and Sensible Soccer, arguably the best football game ever invented.
Even with these omissions, a new generation looks set to enjoy the chunky graphics, pixellated screens and compelling gameplay that rightly made Commodore one of the true innovators of computer gaming.