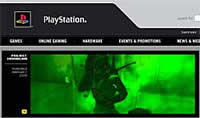 The details of the Cell processor chip designed to power Sony's PlayStation 3 console will be released in San Francisco today.
The result of a devilish melding of the minds of industry giants, Sony, IBM and Toshiba, the chip has taken three years to develop and is reported to be up to 10 times faster than current processors.
Triumphantly billed as a "supercomputer on a chip", advance reports suggest that this beast of a processor is significantly more powerful and versatile than the next generation of micro-processors announced by their competitors, Intel and AMD.
Utilising several different processing cores that work on tasks together, the chip has been fine-tuned to be able to handle the detailed graphics common in games and the data-chewing demands of films and broadband media.

The Cell's architecture is described as scalable from "small consumer devices to massive supercomputers" and when installed inside powerful computer servers, is expected to be capable of handling a breathtaking 16 trillion floating point operations, or calculations, every second. Phew!
IBM will start producing the chip in early 2005 at manufacturing plants in the US, with computer workstations and servers being the first machines off the line sporting the Cell processor.
A working version of the PS3 is expected to be previewed in May 2005 but the full launch of the next generation console is not expected to start until 2006.
High-definition TVs from Sony and Toshiba, a Sony home server for broadband content and the PlayStation 3 all featuring Cell are also due to appear in 2006.
"This is probably going to be one of the biggest industry announcements in many years," boasts Richard Doherty, president of the Envisioneering research firm. "It's going to breathe new life into the industry and trigger fresh competition."
But it's not all pat-on-the-back stuff with rivals publicly questioning whether Cell's potential can be realised – while they hastily get to work on alternative multi-tasking methods.
IBM, Sony, Toshiba to reveal 'superbrain chip' (ft.com)
PS3 Portal News
PS3Land.com
PlayStation 3: The next generation (CNet)
PlayStation 3 chip to be unveiled (BBCt)