IBC was good this year. There was real stuff to see. Ideas that were whispered two or three years ago are now products you can play with rather than vapourware. But you had to be cheeky to find some of them. Marching up to the stands with a request for a 90 second product demonstration certainly helped to cut through the sales bitch, sorry, pitch. Camera man Dave Allen and I spent a couple of days preparing our "gadget safari", looking for products, including software, of interest to the independent producer.
The Long Slow Fade
I am currently making a documentary on DV-CAM about the (slow) death of analogue radio. The question is whether digital radio will replace it in the form we were all expecting five years ago. In the UK, DAB is working. Elsewhere on the continent, it is a mixed bag. In Holland, for instance, the Dutch public broadcasters have stuck 6 of their channels on the air. But there is no added value for listening on DAB – the data is just the RDS feed and, with so few mountains, people are not writing to their favourite FM stations complaining about reception. Commercial broadcasters, still smarting from a crazy Dutch government auction of FM frequencies, refuse to play the DAB ball until they see a way of getting a return on investment.
With hindsight, the radio dial is the worst human interface ever invented. Millions of pounds of valuable content is hidden behind a number – or in the old days the name of the transmitter site! Do you know anyone who sorts their address book by their friends phone number? If you do, probably best to avoid them for intellectual conversation! It is unlikely that they floss very often too.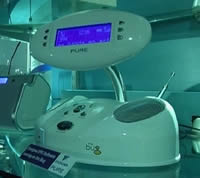 With all the competition from the "red button" and "iPod favourites" radio needs an electronic programme guide – an EPG. At IBC, Unique Interactive together with two receiver manufacturers – Morphy Richards and Pure Digital demoed the first attempts. Yes, the programme schedule is in there. But the intelligent radio that knows your preferences, anticipates and pre-records shows you might like is some way off. We'll probably see the "personalised" software on Wi-Fi enabled MP3 players before the radios are out there.
In South Korea, the national broadcaster, KBS, is working with Samsung to make a multimedia enabled radio. On the WorldDab stand they showed how they're putting video over the DAB network and calling it Digital Multimedia Broadcasting [Watch a QT video of DMB].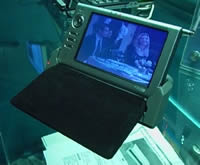 They know the broadcast network is ideally suited to mass distribution of media rich content. The economics of sending 3 minutes of video to 100,000 people make 3G a very expensive way of getting content broadcast, especially in a crisis. Nokia know that, but have chosen partners such as NTL and HP to work on a competing method of content distribution, DVB-H. Both are really in the physics experiment stage – no-one has developed stimulating content for these platforms yet – and it is not going to be ringtones that save the day [Watch QT video of NTL].
DAB, the other DRM, Wi-Fi
Two other technologies seem to be moving along. DAB has a complementary technology designed to make AM (long wave, medium wave and short wave) sound like FM. By turning the transmitter into a giant modem, and using 1/3rd of the power, the results are impressive. The RTL group plans to revive the "great 208" and see DRM (in this case, Digital Radio Mondial) as a cheap way of covering audiences spread over large distances. Three radios were on the DRM stand. I was particularly interested in a ?199 (~$245, ~£135) "cigarette box size" radio from Coding Technologies. It plugs into the USB port of a laptop and is also powered from the USB port. You need a bit wire as an antenna (keeping it away from the laptop processor), but the concept is a true plug and play [Watch a QT video of DRM].

As Wi-Fi takes off, a Wi-Fi enabled radio would be handy. There is a huge choice of radio programming streamed on the web. But you can't carry it around the house.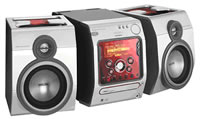 Philips has a system called Streamium, which is more of a Wi-Fi enabled hi-fi/boombox. A clever piece of kit, but Philips haven't a clue on how to promote it to the public. A Cambridge based research company called Reciva, on the other hand, had a much better concept to show at IBC – a kitchen radio format with a familiar tuning knob to change channels [Watch a QT video of Reciva].
It is no longer cool to be just a supplier to the "radio" journalist. Most of the people making recorders or editing systems are coupling the audio editing to some form of video editor. Handheld Digital audio recorders look pricey (?1000 +) when put alongside the new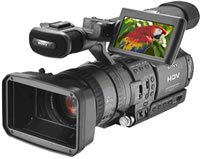 Sony HD-CAM, the HDR-FX1, which will offer entry-level hi-definition video for the prosumer market for around €3,500 (~$4,314, ~£2,390). It also seems crazy that many of the best video editors can be downloaded for a couple of hundred bucks for personal use and yet some audio editors have made it impossible for the freelance community to buy cheap personal copies of the software. They forget what power of persuasion these people have in getting technology adopted within many broadcasting stations.
Our shortest visit was to Canford audio who have nothing on their stand – except one of the world's biggest catalogues of audio equipment. In the back we spotted a pair of headphones, the DM H250 with a USB connector and a built in DA/AD converter – ideal for newsrooms with audio workstations that don't want the expense of a separate analogue sound network. The headphones retail for around £110 (~$136, ~€75).
And finally on the audio side we picked up an iPod with a difference. It is actually a company within Harris called Neural Audio that was showing what their codec technology can do with a very limited number of bits. You got what sounded like perfect mono at 24 kb/s, and 5:1 surround sound at 96 kb/sec [Watch a QT video of Neural Audio].
Then onto stuff for the video/journalist in the field?and we found something that really is for someone like me. You are out on location with a complicated story?how do you remember your lines? Telescript has a small Teleprompter that works with a lap-top and is bright enough to be useful in the field. It will set you back £1,500 (~$2,700, €2,200). The batteries last for a day's shooting. [Watch a QT video of the Telescript]
It doesn't take long for videographers to realize that steadycam isn't steady enough for the bigger screens we see today. But the tripod and dolly manufacturers guess correctly that we don't want to spend our old age in a home for the bewildered with back pain. IBC had a lot of useful equipment for the documentary maker. The Italian company Manfrotto had a carbon-fibre tripod with gimbles, just the thing to keep the camera level on uneven terrain. They also had useful remote controls for handycams allowing for much smoother zooms using buttons on the tripod. LED backlights and even dim-able LED spotlights were on show – and much closer to daylight that I expected [Watch a QT video of the lights]. Perhaps one of the fastest demos was from Microdolly Hollywood who have a portable dolly-track which folds up in 5 seconds -flat! [Watch a QT video of Microdolly] I also bumped into an Israeli company called DVTEC. They have some useful devices to take the weight off your shoulders with a heavy camera, plus a compact car mount which, although light, won't come off as you drive [Watch a QT video on DVTEC's product].
My vote for originality goes to Puddlecam from the Norwich based EV Group. They're in the sports TV business, trying to offer way in which to make unique action shots without ruining the camera. The indestructible Puddlecam is ideal for getting those action shots from the side of the road – in fact from anywhere where ordinary cameras fear to tread [Watch a QT video of Puddlecam].
I think software concepts also deserve a prize. If you want a complete set of test and measuring equipment while doing important DV recordings in the field, look no further than DVRack from the US company of Serious Magic. It is like taking a broadcast truck on location – except the software runs on a laptop. Download the demo to try before you think about purchasing [Watch a QT video of DVRack]. Personally, I was impressed, especially since you can start using this software to save DV to hard-drive and only use DV tapes as back-up. US$495 (~?403, ~£274) is the download price. If you need maps on location, then the Norwegian company of MAPcube offer a special deal to independent journalists who need to draw accurate maps, perhaps for a TV documentary or a website. They take publicly available data from NASA, but then adjust the presentation to make it usable for the broadcast industry [Watch a QT video of MAPcube]. Finally, the satellite company of SWE-DISH caught our eye with a satellite dish, FA150T, that can be folded and carried as a back-pack – at 38 kg (84 pounds) a bit heavy for the overhead locker, but ideal for expeditions to some of the remote areas of the world. Why are these devices still so heavy? Because they need a power amplifier to make contact with the satellites. This one from Sweden uses GPS to find the location of pre-programmed satellites. It is controlled from a laptop. A perfect case of shoot the video, then automatically point to dish to transmit [Watch a QT video of SWE-DISH].
That's all we can squeeze into this space. This survey was done independently of the stand holders – no money changed hands nor was any equipment donated. Colleagues from other IBC sessions in the series also found other gadgets. Perhaps we can persuade them to share their discoveries for a follow-up column. If you want to see the stuff in action, watch the videos!
About Jonathan Marks
Jonathan Marks has worked in public broadcasting in the Netherlands for just over 24 years, but started his own consulting company in the middle of last year called Critical Distance. He produced a popular communications show on Radio Netherlands called "Media Network". He now plays devils advocate to a number of companies, questioning their strategies, but at the same time preparing alternative scenarios for what technology is making possible.